Google and Facebook have collaborated on a new rack architecture that uses 48V throughout, and are now publishing it under the auspices of the Open Compute Project (OCP).
Unlike other OCP projects that mostly benefit hyperscale data centers, Open Rack v2.0 comes in a "modular, shallow-depth form factor" that enables deployment of high-density servers in a smaller footprint, something that would be especially useful in facilities with limited space.
The specifications for Open Rack have made their way through the OCP Incubation Committee and have been shared with the community. Later this year, the architecture will be submitted to the OCP Foundation for review and if accepted, will become Google's first contribution to the project.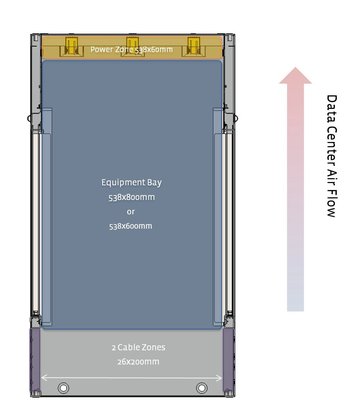 Push and pull
Google was a latecomer to the OCP, having joined the non-profit in March 2016. During the announcement at the Open Compute Summit in California, the company revealed it was working to bring its 48V power distribution ecosystem to the masses.
48V power chain offers higher efficiency than traditional 12V solutions, and Google previously said it managed to increase its energy efficiency by 30 percent by eliminating the multiple transformers usually deployed in a data center, helping it save millions of dollars on electricity bills.
The latest version of the Open Rack also includes specifications for a rack-level 48V Li-Ion UPS system.
"Our contributions to the Open Rack Standard are based on our experiences advancing the 48V architecture both with our internal teams as well as industry partners, incorporating the design expertise we've gained over the years," states a blog post from Google' technical program manager Debosmita Das and technical lead manager Mike Lau.
"In addition to the mechanical and electrical specifications, the proposed new Open Rack Standard V2.0 builds on the previous 12V design. It takes a holistic approach including details for the design of 48V power shelves, high-efficiency rectifiers, rack management controllers and rack-level battery backup units."
Google hopes the standard will enable easier transition from 12V to 48V and help cut costs for related equipment across the industry.
The proposed standard will be officially presented next week at the OCP Engineering Workshop at the University of New Hampshire.