Google has added a new cloud "region" serving the East Coast of the US, which will be delivered from its existing data center in South Carolina. 
The web giant has a new East Coast region to serve its Compute Engine, storage, SQL and other cloud services, according to a blog post which makes it fairly clear that the services are operating from Google's data center in Berkeley County, near Charleston South Carolina, a $1.2 billion site which was first announced in 2007 and expanded in 2013.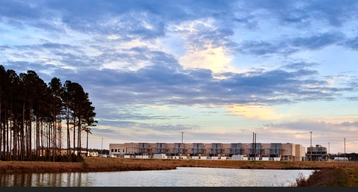 Multi-region plans
"We're opening our new us-east1 region in South Carolina for Google Compute Engine, Google Cloud Storage, and Google Cloud SQL. Google App Engine will be coming soon, we'll have more on this shortly!" says the blog. "This will open up our services to customers that were waiting on a US East Coast presence. Besides lowering latency to those on the US East Coast, the addition of the South Carolina location gives customers across North America the capability to build multi-region disaster recovery plans for their applications running on Google Cloud Platform."
The Berkeley County site uses evaporative cooling assisted by the adjacent lake. Another lesser known fact about the site is that in 2012 an alligator took up residence in the lake, lured there by an ecosystem warmed by the data center.
"The pond has become home to plenty of algae, which meant Google had to stock it with fish," said Google data center operations chief Joe Kava in 2012. ~"And since this is the Lowcountry, the food chain didn't stop there. We now have a four-foot alligator that has taken up residence in our pond as well."