Globalinx Data Center has reached an agreement to purchase 10 acres in Virginia Beach's Corporate Landing Business Park for $2 million.
The company plans to build a 138,000 square foot (12,820 sq m) carrier-neutral data center, with marketing and leasing handled by Five 9s Digital.
Virginia, land of data centers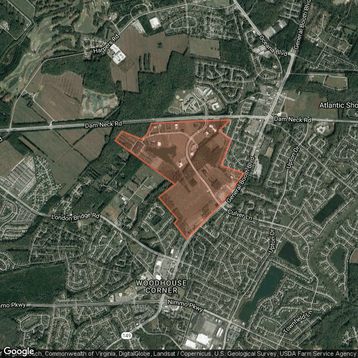 "The Globalinx Data Center will offer highly designed and resilient data center space options to a multitude of telecommunications content providers, social media, data center cloud solutions and data center operators desiring access to this new international connectivity point," Greg Twitt, CEO of Globalinx, said.
"The project is located on an excellent pre-vetted site near the newly announced Telefonica cable landing station. We have witnessed data center and technology growth in other markets with international connectivity points and believe the Globalinx Data Center will provide similar opportunities in the Virginia Beach area."
Two new submarine cables are set to come to Virginia Beach: the US-Spain cable called Marea, supported by Microsoft, Facebook and Telefonica, which will become the Atlantic's highest capacity cable, and the US-Brazil cable called Brusa, funded by Telefonica.
Virginia Beach Economic Development Director Warren D. Harris said: "The world is taking notice of Virginia Beach, and we are prepared with the infrastructure, incentives and forward-thinking support to welcome big data users.
"Corporate Landing and other sites in the city offer excellent opportunities for additional data center development. These projects are creating a new technology port and provide another direct connection to the rest of the world. Being the first international cable landing location in the Mid-Atlantic is a game-changer."
Globalinx was previously a subsidiary of 5Linx, a multi-level marketing company that, in addition to utility and telecommunication services, offers health insurance and "a health inspired line of products".
The division was sold to Birch Communications, a Georgia-based provider of IP-based communications, network broadband, cloud computing, and IT services, last year. On Yelp, the company averages one star across 118 reviews.