The global market for precision air conditioning equipment in data centers will grow at nearly 14 percent per year, according to analyst firm TechNavio.
The report predicts a compound annual growth rate (CAGR) of nearly 14 percent between 2014 and 2019, up from last year's TechNavio figure of 12 percent. The firm says enterprise use of cloud-based services and data analytics has fuelled global demand for data centers, with many new facilities due to open, and older data centers being renovated to include advanced precision air conditioners.
"Vendors are focusing on providing data center infrastructure management systems to customers as they facilitate remote monitoring and infrastructure management by using remote software and sensors attached to the cooling systems," said Faisal Ghaus, Vice President of Technavio.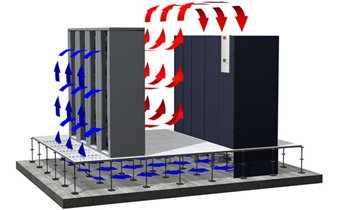 Green is still growing
The report emphasizes growing demand for green data centers, which operate with reduced heat and noise. Vendors are designing cooling systems that operate with no moving parts, in a bid to minimize noise levels.
Precision air conditioners control temperature and humidity of data centers. They are reliable and offer round-the-clock service, for the specialist task of cooling IT equipment. A precision air conditioner consists of an indoor and outdoor unit. It supplies cold air through the cold air inlet of data center racks and dissipates hot air from an air outlet.
This hot air is again treated to optimal temperature and humidity to supply back as cold air. This unit uses microcontroller-based advanced algorithms to accurately control the temperature and humidity; it has additional features such as high CFM and sensible heat ratio. Precision air conditioners can also communicate with building management systems.
The key findings of the report are:
Vendors are focusing on providing data center infrastructure management (DCIM) systems to customers to facilitate remote monitoring and infrastructure management with sensors attached to the cooling systems.
DCIM assists in configuring the system according to the external environment and sensors enable customization of cooling units.
Many vendors market are designing or customizing systems to meet new data center operator requirements.
These designs offer higher adaptability.
Many systems are based on free cooling techniques, especially in countries that experience cold winters.
The growing demand for data centers has paved the way for the development of solutions that enable the operation of green facilities.
The report covers the period 2015-2019, segmenting the market by geography, treating APAC, Americas, and EMEA separately.
The report also profiles key vendors including Airedale, Climaveneta, Data Aire, Delta Electronics, Emerson Network Power, Rittal, Schneider Electric and Stulz.