The market for global data center and enterprise software‑defined networking (SDN) has risen by 82 percent year-on-year in 2015, according to research by IHS Inc.
With SDN Ethernet switches, SDN controllers, software-defined wide area network (SD-WAN) appliances, control and management and more included, the market is thought to be worth $1.4 billion.
The market leaders in individual data center and enterprise LAN SDN categories in 2015 were White Box for bare metal switches, Dell for branded bare metal switches, VMware for SDN controllers and Hewlett Packard Enterprise for SDN-capable (in-use and not-in-use) branded Ethernet switch ports.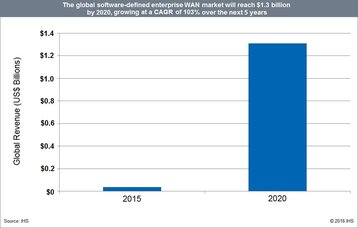 More growth still to come
Cliff Grossner, IHS Technology's senior research director for data center, cloud and SDN, said: "New SDN use cases continue to emerge, and 2015 was no exception with the establishment of the SD-WAN market. While still a small market, many startups, traditional WAN optimization appliance vendors and traditional network vendors have jumped in, and we forecast SD-WAN revenue to hit $1.3 billion by 2020."
SDN-capable Ethernet switches and SDN controllers are equally growing as a market, with both companies and startups who took advantage of the market early and traditional switch vendors benefiting.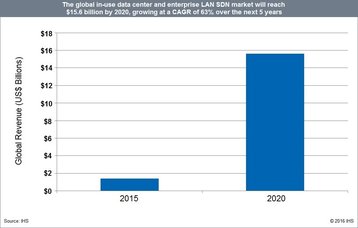 Grossner said: "This year we look for new deployments of SDN and the scaling up of existing deployments. We continue to see vendors add to their SDN-capable products and organize new open source projects, adjusting their businesses to be part of the SDN‑driven transformation.
"It is important not to lose sight that bare metal switching can provide more than a fixed-function merchant silicon data plane.
"There is room for programmable silicon in bare metal switches that is software customizable to meet evolving application requirements, removing the need to replace silicon to innovate."