German hosting and infrastructure specialist Hetzner Online has opened a data center campus near Helsinki, Finland.
The site in Tuusula offers cloud and colocation services, with 2,000 square meters of space available immediately. It benefits from fast connectivity to central Europe, thanks to Hetzner's investment into C-Lion 1 cable system (also known as the Northern Digital Highway) between Helsinki and Rostock in the north of Germany.
The size of the campus could eventually reach 150,000 square meters, with up to 20 data center units at 1.2MW each.
Tervetuloa suomeen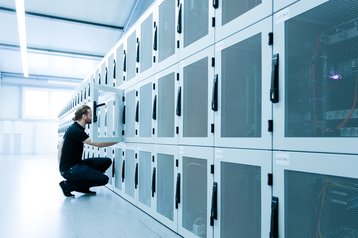 Hetzner Online was established in 1997 as a privately owned web hosting company, and like many others, gradually diversified into colocation and then cloud services. It currently owns and operates two data center campuses in Germany: in Nuremberg and Falkenstein, both powered by renewable energy sources.
Overall, Hetzner Online looks after some 229,500 servers.
The new site in Tuusula, 30 minutes north of Helsinki, follows the same design principles as the company's German facilities.
It uses direct free cooling – with a recognizable slanted roof intended to direct hot air away from the servers and out of the building - and is powered by 100% renewable wind energy supplied by Vantaan Energia. Hetzner's data centers are also fully compatible with taller 47U racks – as opposed to traditional 42 rack units.
Two data halls in Tuusula are already in operation, and the company is already building more.
The campus is managed by Hetzner Finland Oy, a newly established subsidiary of the Hetzner Group.
The company chose Finland due to its cold climate, its location as a geographic intersection of Eastern and Western Europe, and its low electricity prices.
"Our server pricing in Finland is lower throughout our dedicated servers lines due to Finland's favorable energy pricing. This price difference is attractive to many of our customers," Daniel Biller, head of development at Hetzner Online, said in August.