Fujitsu has launched a data center server which holds eight nodes - four installed in the front, and four in the back. The hardware is currently available in Japan, but will eventually be sold elsewhere. 
The new Primergy CX1430 M1 nodes, with two Xeons each, were designed to slide into the CX600 2U chassis. The CX600 is already available to customers, and the new nodes offer an improvement over the previous CX1400 M1 variants.
Primergy CX1430 M1 nodes are available immediately in Japan, costing around ¥600,000 ($5,600), and will be showcased at the Fujitsu Forum 2018 in Tokyo on May 17-18.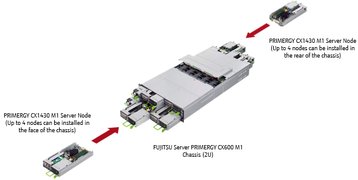 Business in the front, party in the back
Loading CPUs both in the front and in the back increases density, and the new servers use less power, something Fujitsu believes could bring a 1,000-rack data center savings of 20 million yen ($190,000) over three years, in power and rack costs (compared with the Primergy RX1330 M3 1U rack server).
But what about the airflow? "In the sense that CX600 M1 fans inhale from the front and exhale out the back, the chassis is similar to typical servers," a Fujitsu spokesperson told DCD. The cooling fans are in the center of the chassis, drawing cool air from the front and expelling it rearwards.
"The chassis is designed so that the power source units and server nodes at the front are aligned differently from the ones at the rear so that hot air from the front server nodes does not flow over the rear server nodes," they explained. Power and LAN cables are connected to the front and rear of the enclosure.
All this means that maintenance must be done at both ends - which might presumably be an issue in an efficiently-run hot aisle containment system. 
In addition to Xeon D-1500 processors, the modules also have 80 to 128GB of registered memory, up to 3.84TB of storage across two SATA HDDS (or two SSDs), a PCI Express slot, and two 10Gb Ethernet ports. 
Fujitsu originally introduced the front-and-rear loading concept in 2016, as shown in the video below.