Japanese infrastructure giant Fujitsu has expanded the Eternus storage systems range to include all-flash arrays.
The new Eternus AF650 and AF250 models offer faster access speeds, lower latency and enhanced support for deduplication and thin provisioning, when compared to disk-based alternatives. They also feature Automated Quality of Service functionality which helps reduce administration and maintenance requirements, freeing up the valuable time of system engineers.
Late adopters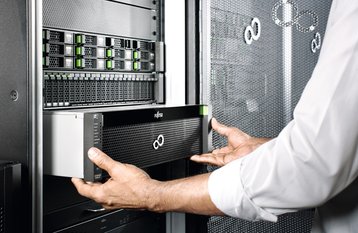 Fujitsu claims that the Eternus AF range actually offers lower cost of ownership over disk-based solutions, since all-flash arrays needs less maintenance and are more reliable.
In large data centers, adopting flash could result in savings on power and cooling, since SSDs require a fraction of electricity consumed by hard drives and produce less heat. They are also resistant to shocks and vibration, so there's no danger that drives will be knocked out by something as trivial as a fire suppression system.
"We're bringing ultra-fast, all-flash storage to the mass market, at new price points for both purchase and operation that make the Eternus AF all-flash system an affordable, viable mainstream business solution," said Michael Keegan, head of Business Line Products at Fujitsu EMEIA.
"As the economics of all-flash storage become ever more attractive, we're enabling customers to create faster, more responsive IT environments that are easily able to maximize the benefits of digital services and next generation data and applications accessed from anywhere."
The top-of-the-range Eternus AF650 boasts up to 256GB of system memory and a maximum of 96 SSD drives, providing 368TB of raw capacity. A second model, the Eternus AF250, offers 64GB of system memory, up to 24 SSD drives and 92TB of raw capacity.
According to Fujitsu, the new arrays are aimed at mixed workloads including databases, VDI, analytics, and big data. They support mirroring, in-line compression and deduplication, and the transparent failover feature that instantly switches to a secondary system in the event of a failure.
The new models are fully compatible with the older Eternus DX range of disk-based storage systems, so customers can build their own hybrid storage racks. Fujitsu expects the first shipments of Eternus AF in late October.