The French telecoms regulator, Arcep, will begin measuring the environmental impact of data centers, as part of a project to measure France's digital environmental footprint.
Arcep has been collecting data since 2020 and in April 2021 published the first edition of its "green barometer," intended to measure the footprint of the nation's telecoms networks. For the next edition of the barometer, the regulator plans to add information about data centers, alongside a broad range of consumer devices including TVs, computers, smartphones, routers, and set-top boxes.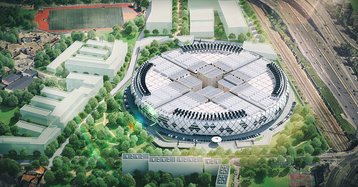 The first annual survey took indicators from France's four main telecoms operators which tracked their environmental footprint over time. Arcep describes it as "a tool designed to inform public debate and the crafting of a low-carbon strategy for the digital sector."
The first edition only looked at those operators, and reported on their greenhouse gas emissions, and their networks' energy consumption; as well as their mobile phone sales, and any policies on collection, refurbishment, and recycling.   
To extend that, Arcep wants to look deeper into the footprint of the devices, and also take into account the data centers which do the heavy lifting in any online activity. Arcep says consumer devices make up 79 percent of the carbon footprint of digital technology in France, so it is asking companies to report on how many devices are in circulation their lifespan, their greenhouse gas emissions, and the amount of rare earth and precious metals they contain.
For data centers, the regulator wants to know their greenhouse gas emissions, their energy consumption, and the volume and sources of water they use.
The idea of a green barometer was suggested in a 2020 Arcep report, "Achieving digital sustainability." The government commissioned the work within the "Chaize Act," named after Senator Patrick Chaize which is aimed at "reinforcing regulation of the digital sector."
The Chaize Act gives Arcep powers to demand environmental data from data center operators, service providers, network companies, consumer device makers, and others in the sector.
Arcep is consulting with stakeholders on how best to include the new data in its annual survey, and has asked for comments by the end of September, with a plan to finalize the data collection process by the end of 2022.
The consultation is here, and Arcep wants comments by 6pm on 30 September, to this address: numeriquesoutenable(@)arcep.fr.