German distributed data center company Cloud&Heat Technologies has arranged for its containerized products to be mass-produced in the Czech Republic by TradeDX, the local subsidiary of Chinese manufacturing giant Foxconn.
Cloud&Heat, whose products typically run an OpenStack cloud implementation, with a cooling system designed to reuse waste heat, announced a version of its systems housed in a portable 20-foot container at CeBit in 2017, and shipped a unit to Japan earlier in 2018. Since then demand has grown, with around 30 new customers, including bookings from Japan and Scandinavia, and a "major order from a German energy group".
Boxing clever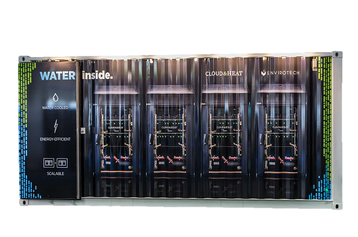 To meet this demand, the company has decided to have part of the manufacturing carried out by TradeDX. To date, the entire product had been built by Cloud&Heat near Dresden, but now TradeDX will create the outer shells, with Cloud&Heat installing the IT and cooling systems.
Foxconn (also known in China as Hon Hai Precision Industry) started in the Czech repbulic in 2016 with a data center joint venture called SafeDX, aimed, initially, at giving Asian companies a foothold in Europe.
The company set up the container-making division in 2017, based on previous experience in delivering data center containers.
Cloud&Heat's containers use CPU and GPU servers, with up to 1,440 GPUs per unit. Two models are available, using air cooling or water cooling. Both models allow for re-use of the waste heat produced, but a Cloud&Heat spokesman explained that the potential for heat reuse is greater with the water-cooled model, which circulates water at 60C, hot enough to be used in heating buildings.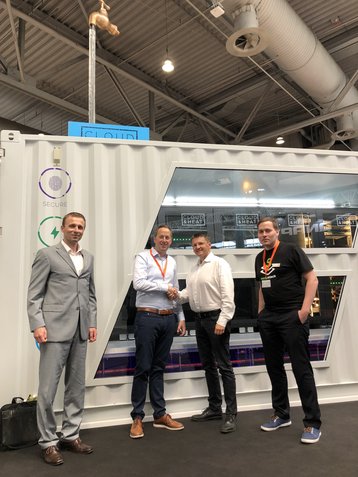 The company reckons one of its units can save up to 1,337 tons of CO2 per year compared with conventional systems, and promises a PUE (power utilization effectiveness) of 1.1.
The TradeDX factory can produce up to 240 containers per year, and Cloud&Heat has an agreement to sell and supply this many units.
"This cooperation is an important milestone in the development of Cloud&Heat from a former start-up to a globally operating company," said Nicolas Röhrs, CEO of Cloud&Heat Technologies.