A former NFL sports ground in Herndon, Virginia, has been sold to a data center developer.
Citing country property records, BizJournal reports Word of Grace Christian Church recently sold 13832 Redskin Drive in Fairfax County for $25 million.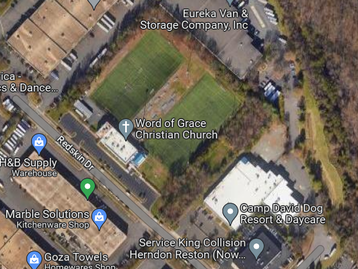 The buyer, 13832 Redskin Acquisition GP LLP, is an affiliate of Starwood Capital Group/Starwood Property Group, which is developing a data center campus on adjacent land.
The acquired site – known as the Old Redskins Park – was originally developed as a practice facility for the now-Ashburn-based Washington Commanders NFL team (formerly the Washington Redskins) during the 1970s.
The team vacated the site in the 1990s to relocate to Loudoun County, with Word of Grace Christian Church acquiring the site around the year 2000.
The church property includes a building and two full-size turf athletic fields, which had been managed by the Chantilly Youth Association (CYA) since 1999 — until last month. CYA's lease ended June 6 and it has since vacated.
Mark Abbott, executive director of the CYA, told BJ that the church sold the property "to make way for the construction of a data center facility. Losing those fields and the history associated with the property is disappointing but I guess we chalk it up to progress."
Most of the surrounding buildings are set to be demolished for a 2.3 million sq ft data center park Starwood is planning.
In 2021 Starwood affiliate RP Industrial Owner LLC filed to demolish a number of warehouse buildings within the 60-acre Renaissance Park for a phased development of four data centers. It's unclear how the acquired site will affect Starwood's development plans.
RP Industrial Owner LLC acquired the larger site in June 2019 for $134.1 million. Most of the buildings set for demolition were built between the early 1970s and mid-1980s.
A Sports Illustrated piece about the old Commanders' facility noted as the ground gradually became surrounded by warehouses and commercial buildings, workers would sometimes watch practice sessions from the rooftops.
"The old Redskin Park was cutting edge in being devoted to the team, but by today's standards it was spartan," said sports journalist Rick Snider. "No elevator. Small locker room half the current size. Fields covered with dandelions in the spring that caused Allen to ask players to each pull a couple on their way back to the locker room, which nobody did. The two-story brick building included little parking and a media room with one phone. The PR guys sat in cubicles and we could hear their conversations. Lunch was often catered by McDonald's."