A former Vermont State Senator, who has also served as a Google executive, has proposed that a disused nuclear power station in Vermont should be turned into a data center. 
The 125-acre Vermont Yankee plant would be an ideal candidate to become a data center, John Dunne told the Vernon Planning Commission, which has been looking for a new purpose for the site since it closed in 2014, according to VPR News. A local politician, Dunne also worked for some years at Google finding sites just such as this for new data centers.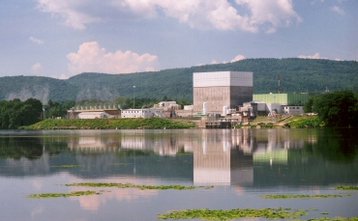 Hot water
The boiling-water nuclear plant operated for more than 40 years from 1972, and provided 35 percent of the electric power used in the State of Vermont (and 78 percent of the power generated there) in 2008. It was only closed down in 2014, after a landmark legal case allowed the State to over-ride a Federal license from the Nuclear Regulatory Commission (NRC) which would have allowed it to continue for nearly 20 years more. 
Since it closed, the Commission has considered uses including a natural gas power plant, or a solar farm, but local politician Dunne has other ideas. 
"There's a lot of competition for these facilities," said Dunne, according to the Times Argus. "But Vermont Yankee has some unique, very difficult-to-replicate infrastructure that could well be attractive."
The site has a river for cooling, and a railway line that could easily have fiber optic cable installed along it. It is obviously also well connected to the State's power grid. 
Dunne served on the Vermont House of Representatives and Senate, starting in 1992, and was the Democratic candidate for State Governor in 2010 and 2016. From 2006 to 2016, he worked in community affairs for Google, a job which included sourcing data center locations.
At 125 acres, the Vermont Yankee site is smaller than Google would normally like, Dunne said, as the search giant's facilities normally start at 300 acres, and can be as large as 800 acres. But it could be very useful to a smaller company, or a colocation provider that wants resources close to the major New England towns. 
There is a drawback however. The area of the site currently available is even smaller - around 30 acres - as the reactor needs to be decommissioned and decontaminated. Entergy originally said this process could take some 60 years, but the company now has plans to sell the reactor to NorthStar, a demolition firm which says it can have the site cleaned up by 2030. 
On the part of the site that doesn't need a cleanup, Dunne said a data center could be up and running in as little as six months, and bring in some 60 jobs, subject to the usual kinds of state support in the form of tax breaks, and a good contract with local utility Green Mountain Power.