Ford plans to build a $200 million data center in Flat Rock, Michigan, its second new facility after its previously revealed Dearborn, Michigan data center.
In addition to the data center, the car company said it will spend $850 million retooling its Michigan Assembly Plant and $150 million expanding its Romeo Engine Plant in Michigan.
Preparing for self-driving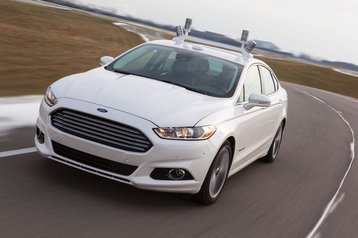 Details on the size and contents of the data center are lacking, but Ford said that it expects its data storage requirements to increase from its current 13 petabytes to more than 200 petabytes in 2021.
This expected jump in storage requirements comes as Ford tries to rebrand itself as a mobility company, as its core automobile business comes under threat from Silicon Valley's self driving endeavors and the rise of ride sharing.
Ford has pursued both self driving and ride sharing in recent years as it seeks to adapt to the changing market.
In 2016, Ford and Baidu invested $150 million in Velodyne, a manufacturer of lidar (light-based ranging) sensors used in self driving cars. The company then announced that it planned to have a fully operational self driving car - without a steering wheel - by 2021, although it is likely the car would be used only in certain city centers and see its speed limited.
Software for the car will be developed in part by Argon AI, an artificial intelligence company founded by the ex-heads of Google's and Uber's self driving divisions. Last month, Ford announced that it would invest $1 billion over the next five years in Argon, becoming majority shareholder. 
"There's a war for talent out there," Ford CEO Mark Fields said at the time.
When it comes to ride sharing, the company has dabbled in the field, acquiring on-demand commute ride sharing service Chariot in September 2016. The service, which uses Ford shuttles, will come to eight new cities in 2017.
Meanwhile in Michigan
Michigan - which in December became the first state to establish regulations for the testing, use, and sale of self driving cars (in part due to lobbying by Ford, General Motors, Google, Fiat Chrysler, Toyota, Lyft, and Uber) - saw further investment from Ford on top of the data center.
It will spend $850m on its Michigan Assembly Plant so that it can produce new Ford Rangers and Ford Broncos, as well as $150m on the Romeo Engine Plan, something the company says will create or retain 130 jobs.
It previously said that the Flat Rock Assembly Plant would see a $700 million investment, adding 700 jobs.
"At Ford, we are investing aggressively in building on our strengths today – including trucks, vans, commercial vehicles, performance vehicles and SUVs – while at the same time growing our leadership in electrification, autonomy and mobility services," Joe Hinrichs, Ford president, The Americas, said.
"As America's top producer of automobiles, we are proud to be going even further in our commitment to invest in manufacturing here at home."
President Donald Trump, who ran a campaign that - among other things - promised to bring jobs to the US, was characteristically enthusiastic about the news.
He tweeted: "Big announcement by Ford today. Major investment to be made in three Michigan plants. Car companies coming back to U.S.  JOBS! JOBS! JOBS!"
Ford's investment plans date back to 2015, with the $850m assembly plant investment, approved that year as part of a deal with the United Auto Workers Union - although at the time, it was $700m.