Cisco and NetApp have announced a major update on FlexPod, their converged infrastructure system.
The new FlexPod SF features scale-out flash storage from SolidFire, a company NetApp acquired in 2016, and is the first FlexPod to be powered by its Element OS.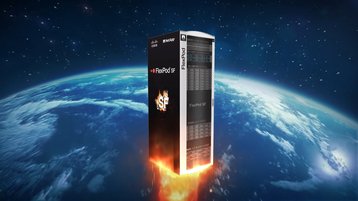 Now with more flash
FlexPod was originally announced in 2010 as an entry in the emerging 'converged infrastructure' category.
Each 'pod' is a 42U cabinet that combines servers and switches from Cisco with storage from NetApp in pre-validated configurations, creating blocks of compute that are easy to deploy and manage.
Over the years, the partners have released several specialized versions of the system including FlexPod Datacenter, FlexPod Select for big data applications, and half-size FlexPod Express aimed at SMBs.
FlexPod SF is a product for customers that need high performance at scale. It's main selling point is integration of all-flash storage from SolidFire, a company that specializes in scalable flash designed for the cloud operators.
SolidFire's storage shelves are made with Multi-Level Cell (MLC) memory – the same type used in consumer products such as smartphones, albeit with a longer lifespan thanks to clever storage controllers. The arrays are managed using proprietary software called Element OS, that includes features like compression, deduplication and guaranteed Quality of Service levels.
In addition to flash storage, FlexPod SF supports a wide range of Cisco Unified Computing System (UCS) B-Series blade and rack servers, and Cisco Nexus switches.
"To help businesses capitalize on their digital transformation, IT needs a new kind of cloud infrastructure that is simply, agile, and performs predictably as application requirements rapidly change," said Satinder Sethi, VP for Data Center Solutions at Cisco.
"FlexPod SF offers a pre-validated, next-generation software-defined, converged architecture solution that customers can deploy with confidence to meet their transformational goals."