Swedish infrastructure specialist Flexenclosure is set to ship one of its modular data centers to the island of Mindanao in the Philippines, to be used by local telecommunications provider Globe Telecom.
David King, CEO of Flexenclosure, said the project "marks the start of what we expect will be another year of significant growth in the region."
The data center will open its doors in the third quarter of 2018.
Flatpack empire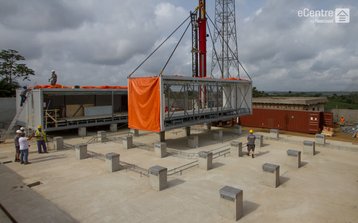 Modular data centers can be constructed in a fraction of the time it takes to erect a traditional facility, and can be easily shipped to areas where building a permanent data center is impractical.
Flexenclosure's modular data centers have proved to be especially popular in the developing world: they have been previously deployed by Vodacom in Tanzania and Mozambique, MTN in Côte d'Ivoire and Burst Networks in Myanmar.
Globe Telecom operates several traditional brick-and-mortar data centers across the Philippines, but has decided to go with Flexenclosure's eCenter range for its latest facility. The modules will be manufactured, pre-assembled and tested in Sweden, then shipped to Mindanao, where they will be installed and supported by Manila-based telecommunications provider and IT integrator Orissa Wicomm.
"We are committed to delivering market-leading services to our customers; on the network infrastructure side, this means flexible, modular and low cost," said Gil Genio, CTO and Chief Strategy Officer at Globe Telecom.
"Our new data center in Mindanao is part of our network build to ramp up capacity and provide innovative services to our growing broadband, enterprise and consumer market segments. It employs this modular architecture that allows us to rapidly add infrastructure with growth."