Prefabricated data center designer and manufacturer Flexenclosure has established a second production site in its Swedish homeland, set to begin making eCentre modules early next year.
Its first manufacturing facility is situated in Vara, a mere 30km (18 miles) away from the new site. 
Increasing supply to meet demand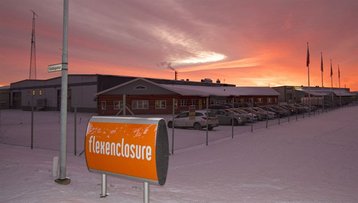 The construction of the new site, located next to the Lidköping-Hovby Airport in Hovby, 120km (75 miles) north east of Gothenburg, was driven by a surge in demand for the modules, which are self-contained and pre-integrated with network and power equipment. 
Flexenclosure CEO, David King, said: "This is a major milestone for us and a confirmation of our successful growth strategy for both our eCentre product and our business.
"We are rapidly expanding our global eCentre footprint and the new facility will enable us to deliver new data centres even faster to our customers around the world."
Founded as a subsidiary of modular pharmaceutical manufacturing facilities company Pharmadule Emtunga AB in 1989, Flexenclosure launched as an independent entity in 2007. In the years since, it has built at least 43 modules destined for 27 countries - including Colombia, Myanmar, Ethiopia, Palau and Samoa - and recently agreed to build data centers to ship to Chile and Ecuador. Up to 20 modules will be sold to Australian telco Virtutel, which will operate the facilities as a network of edge data centers. 
The company also makes hybrid power systems, which can work as standalone units or in combination with the grid or renewable energy sources, designed to be placed at the bottom of telecom towers, under the eSite brand.