Swedish prefabricated data center specialist Flexenclosure is planning to delopy two of its modules in the capitals of Nicaragua and Honduras.
The first, in Managua, is already being built at Flexenclosure's plant in Sweden, and is expected to be delivered by the third quarter of this year. The second module, which is bound for Tegucigalpa, is due for completion at the beginning of next year.
The Latin American dream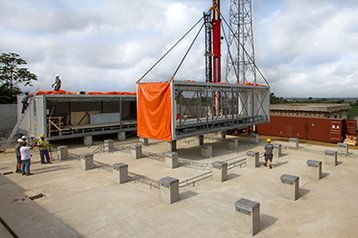 The facilities are being built to meet Uptime Institute's Tier III concurrently maintainable site infrastructure standards. If they receive the certification, they will become the first Tier III facilities in either country.
Like the two modules the company recently installed in Ecuador, the data centers will be built to resist earthquakes.
Flexenclosure not only manufactures the data center modules but also provides ruggedized power systems to its customers, most of whom are telecommunications providers in developing markets.
To date, the company has deployed its eCentres in 24 markets, with recent projects focusing on Latin America. In addition to Ecuador, it has delivered facilities to Paraguay, Colombia, Bolivia and Chile.
CEO David King said the modules "have proven to be the ideal solution for the LATAM market," attested to by the fact that a total of seven have been installed in the region in the past two years.