The Fijian government has turned to Swedish modular infrastructure specialist Flexenclosure to install a submarine cable landing station on its second largest island, Vanua Levu.
The pre-fabricated data center at Savusavu will connect to the Tui-Samoa cable, linking to Fiji's largest island, Viti Lev, as well as Samoa and the Wallis and Futuna islands.
Landing station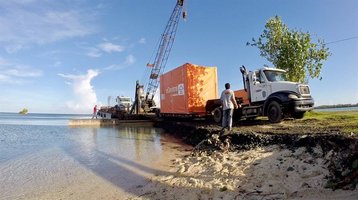 "The construction of this eCentre is a major step forward in our campaign to bring all Fijians, regardless of geography, into the fold to meet the demands of a dynamic 21st century economy," the Fijian Attorney-General, Aiyaz Sayed-Khaiyum, said.
"This project will bring the level of services available on Vanua Levu on par with what can be found on our main island, Viti Levu, bringing enormous benefits for local businesses and opportunities for jobs in ICT, making the entire region riper for investment."
He added: "For ordinary people, the benefits of high speed Internet access are limitless; it means more accessible public services, more high-paying jobs, and it means that they will enjoy connections with their fellow Fijians and with the rest of the world like never before."
The 1,470 km Tui-Samoa cable system will be capable of delivering up to 8 Tbit/s. The project is part-funded by the Asian Development Bank, the World Bank and the Australian Government.
Flexenclosure was responsible for installing two landing stations in Samoa for the cable last year. David King, Flexenclosure CEO, said: "We are fully committed to the Pacific region, and following our deployments in Palau and Samoa this Fijian project confirms our status as a major force in the Pacific cable landing station market."