Modular data center manufacturer Flexenclosure has completed the deployment of one of its eCentre facilities in Quito, Ecuador's capital city, on behalf of US communications giant CenturyLink.
The facility, which is built to meet the Uptime Institute's Tier III standards, will be used by CenturyLink to provide an array of services including hosting, colocation, cloud and managed services.
Don't Quito'n me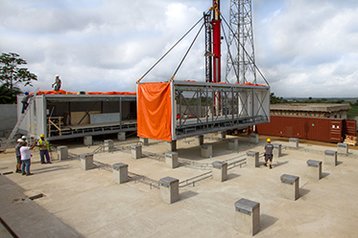 While it can currently bear loads of up to 300kW and accommodate up to 100 racks, the one-story facility has been built with the option of adding a second floor on top of it.
Its structure is earthquake resistant – which, in a country that regularly suffers tremors of varying intensity, including an incident last week caused by a volcano eruption, is crucial – as per Flexenclosure's custom design.
The company prefabricates and pre-integrates all of its eCentres in its Swedish manufacturing facilities, respectively located in Vara and Hovby. The company's CEO, David King, explained that the modules are perfect for companies requiring "almost unlimited configuration flexibility" - which is often a prerequisite for deployments in harsh environments - whilst allowing for future expansions.
Flexenclosure's customers tend to be telecommunications providers. These include South Africa's MTN and Vodacom, Millicom, Airtel, Myanmar-based Apollo Towers, and Zain of Kuwait – with eCentre deployments across 24, mainly developing, markets worldwide. These include facilities in the Philippines, Australia, Fiji, Ethiopia, Paraguay Chad, Myanmar, Vodacom, Mozambique, Côte d'Ivoire, Colombia, Tanzania, Paulau and Samoa.
The company also manufactures ruggedized telecom power systems, eSites, which it has so far deployed in twelve countries, eleven of which are in Africa.
Meanwhile, Centurylink's Latin American VP for data centers and security, Gabriel del Campo, said its new facility in Ecuador will allow it to "bring new managed services to market very fast."