A liquid-cooled supercomputer designed by Iceotope and funded by Rolls-Royce has been purchased by the University of Derby for collaborative research projects.
The Iceotope machine, its first commercial sale, will be housed in the University's Institute for Innovation in Sustainable Engineering (IISE), will handle complex calculations for research projects on behalf of local businesses. Thanks to liquid cooling, it will operate almost silently, and its waste heat can be used to warm rooms in the University building.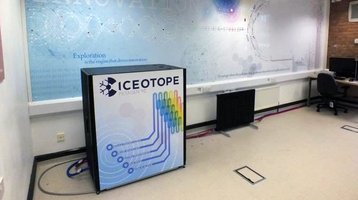 Silent running
"The Iceotope machine will be used to deliver a number of projects as part of joint activities between Rolls-Royce and the University," said Professor Richard Hall, director of research, innovation and impact at IISE. "As the first machine commercially delivered by Iceotope, it will act as a very important object for research and we look forward to future collaborations."
Unlike standard computers, the machine has no fan, is virtually silent in operation and offers high density IT, improved performance and a reduction in energy consumption.
The machine has 324 cores, and operates at 9 Teraflops, with 13.5TB of disk, and 1.2TB of RAM. 
The Iceotope machine will support local industry, including ongoing collaborations between the University and Rolls-Royce. IISE will also become a local computational hub for small and medium enterprises (SMEs) in the region.