Local US news station ABC 15 Arizona has reported that Apple's massive new data center in Mesa, Arizona, which it acquired through the ill-fated partnership with GT Advanced last year, caught fire yesterday. It is understood that the blaze is now under control.
Photographs (below) show the roof on fire. The rooftop, which is equipped with hundreds of solar panels, is the scene of frantic activity as local firefighters and emergency crews attempt to put this fire, and another blaze inside the building, out with fire tenders. At the time Apple acquired the facility, it promised to power it entirely by renewable energy.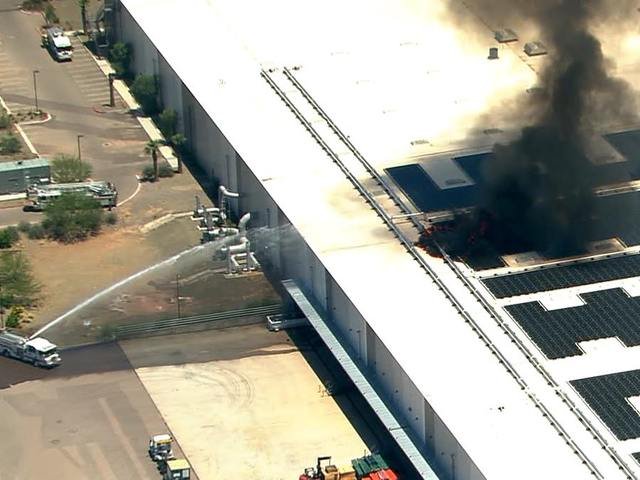 DatacenterDynamics reporter Nick Booth wrote in February: "Apple has said its new data center will be a 'command centre' for its global networks. It will be powered entirely by renewable energy, and could help create up to 500 temporary construction jobs and 150 permanent positions."
The firefighters remain on the scene and authorities are investigating the cause of the blaze.
ABC 15 reports that crews from Mesa, Gilbert and Superstition Fire worked together to extinguish the fire within 35 minutes, and there are no reports of any injuries. The local news outlet says the fire appears to have originated on the solar panels on the roof.
Apple plans to take over the Mesa, Arizona factory where GT Advanced was formerly producing sapphire boules, transforming it into a massive $2bn data center.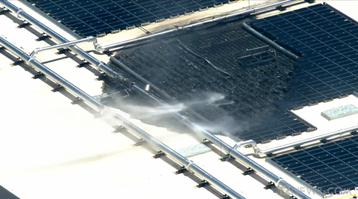 Apple's new command center - how bad is the damage?
According to Arizona Governor Doug Ducey, the center will house 150 full-time Apple employees and its construction at the 1.3 million square foot facility will create 300 to 500 additional jobs.
In 2013 Arizona created the conditions for major inward investment when it adjusted its local laws to accommodate major tax breaks for data center operators who set up in the state.
Governor Jan Brewer's state budget pushed through the tax incentives, which are meant to benefit both mega-scale single-tenant projects and companies that provide colocation services out of multi-tenant facilities.