US colocation firm Fibernet and carbon capture company Enchant Energy are continuing efforts to keep an Intermountain Power Agency (IPA) coal power plant in Utah running beyond 2025 to power a planned data center.
First reported by the Millard County Chronicle Progress, the companies made a buyout offer in October 2022 to purchase all of IPA's assets, including two coal units located in Millard County which have a combined capacity of 1,900MW. The proposal included a plan to build a data center adjacent to the coal plans and use the generated power for the data center.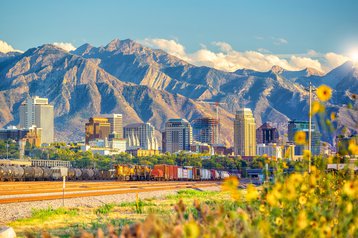 However, in early November the bid was publicly rejected by IPA. A primary reason for this was a concern that the sale would place IPA in violation of a previous agreement with the federal government.
In 2014 the EPA signed the 'Disposal of Coal Combustion Residuals (CCR) from Electric Utilities' which finalized regulations for the safe disposal of coal ash. The regulations concerned requirements to manage the leaking of coal ash into groundwater and the air, and to publicly report on it.
IPA was given the choice to build a new disposal unit, or to commit to closing the plant by a certain date. IPA chose the latter, opting to transform the plant into an 84MW hydrogen power station in 2025 at a cost of $865 million and to continue allowing the CCR to leak into the groundwater in the meantime.
Should the IPA sell the power plant for continued use running on coal, they would potentially face significant consequences, although the details of what these would be have not been commented on.
Despite this, Fibernet and Enchant seem keen to continue pursuing their data center project, and are working to find a way around the issue. Details about the scale of the proposed facility or its target customer were not shared, but the proposals would see the coal plants leased back to IPA to operate.
Fibernet CEO Lane Livingston argued that shutting down IPP's coal operations could negatively impact up to 4,600 jobs, cost the state $412 million in tax revenue, and "$1.5B in local economic activity will be lost to Millard, Sanpete, Sevier, and Carbon Counties, and the State of Utah."
The company also believes that it can create a first-class, ultra-low carbon electric generation facility out of IPP's coal units.
"In good faith, we engaged in a series of meetings with IPA management and Board to determine if there was a way to acquire the IPP Coal Facilities, decarbonize it, and utilize the power for a massive data center campus," Livingston said. "We hope and expect IPA's Board and management will reengage once they understand our proposal enhances their hydrogen project, provides greater security to all of IPA's members, and customers, including The Los Angeles Department of Water & Power (LADWP), and will be an economic engine for the region."
The IPA responded to Fibernet's comment, stating that the risks simply didn't outweigh the potential. According to John Ward, an IPA spokesperson, the IPA's hydrogen project is already attracting over $4 billion in new investment to the area, and if IPA entertained Fibernet's proposal, they risked the EPA shutting down the coal units that are currently operating and heavily relied on with just 135 days notice.
Despite this, Senator Evan Vickers and Derrin Owens confirmed that there is state involvement in the discussion in December 2022.
Owens said discussions among IPA officials and state legislators have taken place at various times regarding extending the life of the coal units.
"That's been in the works. That's kind of in play right now. I'd love to see those coal units that billions of dollars have been put into that they stay up," he said.
However, he also admitted that IPA can't make the move because of environmental regulations. A way around this would be for the state to exercise eminent domain and take possession of the units from IPA.
Vickers added that keeping the coal units open would bring with it around $200 million of expenses that the IPA could avoid if they went ahead with the close.
For now, there does not seem to be any concrete information on the future of the plant, and discussions are still ongoing. DCD has reached out for comment from the involved parties.
Update: Enchant Energy CEO confirms that the companies are still trying to acquire the power plant. In an email to DCD, CEO Cindy Crane said: "Enchant Energy remains committed to working in partnership with Fibernet to secure the Intermountain Power Plant, decarbonize it and add greatly needed high density data center infrastructure."
Founded in 1994, Fibernet provides colocation, hosting, and backup & recovery services. The company currently operates a 40,000 sq ft (3,700 sqm) colocation data center in Salt Lake City, Utah, and a 20,000 sq ft (1,850 sqm), 6MW space in Silicon Valley, California.
Enchant Energy is developing carbon capture and sequestration technology to extend the life of coal plants. The company was set to add carbon capture facilities to the San Juan Generating Station in New Mexico until the owner PNM decided to sell off and dismantle the plant as originally planned instead.