Facebook is planning to spend an additional $1bn on building out its data center campus in Los Lunas, New Mexico, despite not having completed the first two phases of the development.
Construction of the initial building began in October 2016, with the company stating it could see up to six phases of expansion. This was followed by another building which broke ground a mere four months ago.
The initial investment made by Facebook stood at $250m, a quarter of the amount it will spend on the expansion. Once complete, the first two facilities will span 980,000 sq ft (91,045 sq m). 
The long road to Los Lunas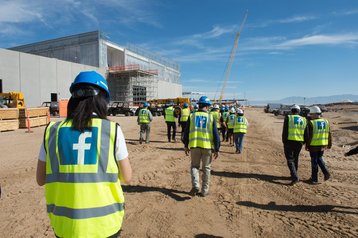 Facebook was offered $30bn in industrial revenue bonds by local and state authorities to build in Los Lunas, giving it a three-decade-long property tax break. It also received $13m in funding for local development and job creation, and $1.6m in annual tax reimbursements to encourage its choice to build in New Mexico rather than Utah - the alternative location considered by the social media giant, which also rolled out controversial tax incentives to lure Facebook to build on its plains, but failed to secure the project.
In return for incentives, Facebook will contribute to New Mexico's local tax revenue, and employ approximately 50 people per facility.
And indeed, Los Lunas' gross receipts tax revenue reportedly increased by $2m in the first quarter of the fiscal year, which local authorities have put down exclusively to Facebook's tax bill.
With the expansion, the company promises up to 1,000 temporary construction jobs, with work expected to continue until 2023.
And as well as the data center campus, Facebook is funding a $45m solar project in order to fulfill its promise of powering the facilities with 100 percent renewable energy, and a 200-mile fiber route to serve them, which it says will be 50 percent more efficient than most high capacity cables.