Facebook plans to expand its upcoming Los Lunas, New Mexico data center, adding another 460,000 square foot (42,735 sq m) building to the campus that's still under construction.
After choosing the data center location in September 2016, the company set to work on opening the first phase by late 2018. Considering the expansion, which will bring the facility to a total of 980,000 sq ft (91,045 sq m), construction work is expected to continue into 2020. It was previously suggested that Facebook could increase the site to include a total of six buildings.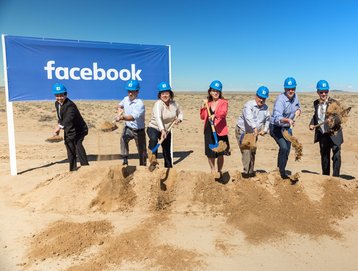 Dirty stuff
Since breaking ground in October last year, Facebook has "had an average of 150 workers on site every day, logging more than 280,000 hours of work on the project, moving 3,200,000 cubic yards of dirt, and pouring more than 30,000 cubic yards of concrete," KC Timmons, responsible for Facebook's data center operations in the west of the US, said.
"At peak, we project 1,000 construction workers will be on site daily. This expansion will also add additional full-time employees."
New Mexico's Governor Susana Martinez commented: "New Mexico's powerful incentives are bringing more opportunities to our state - once again ahead of schedule with more jobs and investment than initially anticipated."
Facebook originally chose to build in the state after a fierce bidding war between New Mexico and Utah. 
The Village of Los Lunas won the project after offering to forgo property taxes for 30 years in exchange for annual payments starting at $50,000 and growing to just under $500,000. It also offered billions of dollars in industrial revenue bonds and participation in various economic development funding initiatives.
In addition to the data center, Facebook plans to bankroll a $45 million solar project in New Mexico, and a 200-mile underground network cable.