Facebook announced plans to build a second data center at its Luleå, Sweden, site, using its latest data center design concept which the company expects will enable it to expand capacity twice as fast as it does currently. The design is also meant to work in any location.
The company's first Luleå data center came online in 2012. This was its first data center outside of the US.
The new "rapid deployment data center" concept relies to a great extent on manufacturing large building blocks at a remote factory and shipping them to the data center site for quick assembly. Facebook first previewed it at the Open Compute Summit in San Jose, California, in January.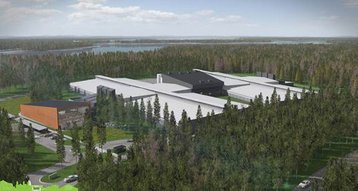 Prefabricated modules
The idea of using prefabricated modules to speed up data center construction has gained a lot of popularity over the past several years. The approaches within the category vary from stuffing standard shipping containers with data center equipment to manufacturing large pieces of data halls at a factory for quick assembly on-site.
Both Google and Microsoft are known to have used the approach. A number of data center providers, including Phoenix-based IO and London-based Colt, use it to build out data center space for customers.
At the core of the concept is the "chassis" approach. Taking a tip from the automotive industry, the idea is to build a standard chassis (in this case a steel frame that is 12ft wide and 40ft long) and use an assembly line to attach components to it.
The components include all infrastructure placed above the IT racks in the data center, Marco Magarelli, a design engineer on Facebook's data center design team, wrote in a blog post announcing the plans. These are things like cable trays, power busways, containment panels and lighting.
"These chassis support all the services that are found overhead above the racks," he wrote. "Unlike containerized solutions, which are a full volumetric approach that includes a floor, this idea focuses solely on the framework that exists above the racks, to avoid shipping the empty space that will eventually be occupied by the racks."
Once a chassis is put together, it is placed on a truck bed sideways and shipped to the data center site. Once at the site, it is placed on top of concrete-mounted posts.
Two connected chassis make up a 60ft aisle. A typical data hall will have 52 chassis total, with 13 cold aisles.
Until now, Facebook has been building data centers using iterations of the design of the first data center it build in Prineville, Oregon. The company has deployed six versions of that design.
It has also build data centers in North Carolina and Iowa in addition to leasing data center space from wholesale providers in the US.