Facebook has announced a new solar project, to help meet its promise that its upcoming New Mexico data center will be powered with renewable energy.
The state's largest electric provider, Public Service Co. of New Mexico (PNM), will partner with Affordable Solar and Array Technologies on three solar farms that cost a total of $45 million.
Facebook's power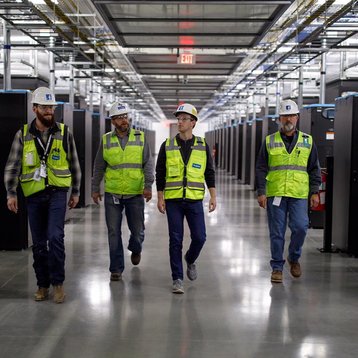 The project was announced at Affordable Solar#s headquarters in Albuquerque, where the company said that it will hire 40 additional employees for the farms.
PNM will finance the project, with the $45m mostly going to Affordable Solar to build the solar farms, as well as some to Array Technologies for providing solar tracking equipment. Facebook will then repay the money as it runs its facility.
"The solar industry is flourishing in New Mexico, not only because of our abundant sunshine, but also because of strong support from PNM, local communities and our state policy makers, especially Gov. Martinez," said Kevin Bassalleck, President of Affordable Solar, said.
Pat Vincent-Collawn, chairwoman, president and chief executive of PNM Resources, told The Associated Press: "This project clearly demonstrates some of the best possible outcomes of an economic development project: supporting a local renewable energy business, creating local construction jobs and helping to grow our economy here in New Mexico."
At the event, Albuquerque Business First reports that New Mexico Gov. Susana Martinez said: "Not only is Facebook's massive data center expected to create thousands of long-term construction jobs – it's also sending a message to companies across the globe that New Mexico is open for business.
"Bringing Facebook to New Mexico was a big step in the right direction, but we have to continue building on our progress to diversify our economy and create even more jobs for our families."
Martinez's comments come after Facebook was given several lucrative tax incentives to locate in the state, after fierce competition with Utah.
As part of the deal, Facebook will receive $10 million in state Local Economic Development Act funding, plus a gross-receipts tax reimbursement of up to $1.6 million annually and $30 billion in industrial revenue bonds.
A recently published economic impact report suggested that the deal was mostly positive for the community, although clearly very expensive.
The first phase of the Los Lunas data center, a single site, is expected to cost $250 million, but the company plans for up to five more sites.
Facebook's data center needs around the world are expected to grow as it does, with the company continuing to add loyal users to its suite of social networks.
In its fourth quarter earnings report, released today, Facebook said that total monthly active users grew 17 percent year-over-year to 1.86 billion. Daily active users increased by 18 percent to 1.23 billion.
WhatsApp and Messenger both have more than 1 billion monthly active users, while Instagram has more than 600 million monthly active users.