Facebook has started building a new data center on its Altoona site in central Iowa, which will add another million square feet (900,000 sq m) of space to a site which already has two active building projects.
The new building, the fourth on the Altoona site, will  be the largest there, more than double the size of the three previous buildings, which are each less than 500,000 sq ft (46,000 sq m). The total area of the Facebook campus buildings will be more than 2.5 million sq ft (230,000 sq ft) when all this is complete. The company is still building the third facility on the site and in October 2016 announced a 100,000 sq ft expansion to the site specifically for "cold storage," where users' old photos can be kept in low-energy storage systems for future access.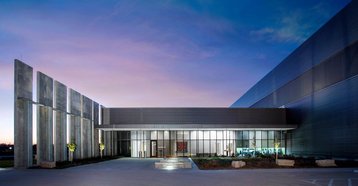 More storage needed
"Today, we're announcing work has begun on our fourth building at our 400-acre site," said a blog post by site manager Brice Towns. "This is our largest active construction site in our data center network of nine locations, and it's happening right here in Altoona. Today, the third building and cold storage expansion are actively under construction, and now, we're breaking ground on our fourth building."
Towns reckons that Facebook construction teams have spent 2.75 million hours building the Altoona campus, and the new projects will keep up to 800 builders busy on the site until 2020. Aside from construction, the data center headcount on the site will increase from the current level of 200, he said. 
The new building will increase the power demands, but Towns says Facebook will be keeping a 2013 promise that the site would be carbon neutral. Using power from the nearby 138MW wind farm in Wellsburg which Facebook funded, along with other resources from MidAmerican Energy, all four buildings will be powered with renewable energy. Overall, the rest of Facebook is catching up with this, said Towns: "We are one step closer to reaching our goal to power 50 percent of our data center operations in 2018 with clean and renewable energy."
Facebook is contributing to local schools and other community projects in Altoona, a suburb of Des Moines,Towns said. The Des Moines Register reports that the total cost of the campus could reach more than $1.5 billion.
The announcement follows news in April of expansion at Facebook's Fort Worth data center site which could take the cost of that campus to more than $1 billion. The Texas site also makes use of wind power through a similar power purchase agreement.