Social media and advertising company Facebook has rebranded its company name as 'Meta.'
The eponymous social website will retain its name, as will subsidiary businesses WhatsApp and Instagram. The company plans to start trading under the stock ticker 'MVRS' from December 1.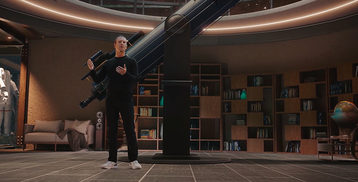 The company said that the new name was due to a new focus on the metaverse, an ill-defined term for a virtual world with persistent, shared, 3D virtual spaces.
The company plans to spend $10 billion this year on Facebook Reality Labs, its metaverse division creating AR and VR hardware, software, and content - of which Oculus VR and Portal smart calling devices are a part. It envisions visiting the metaverse in AR, VR, as well as on smartphones and computers.
"The defining quality of the metaverse will be a feeling of presence — like you are right there with another person or in another place," CEO Mark Zuckerberg said in a blog post. "Feeling truly present with another person is the ultimate dream of social technology. That is why we are focused on building this."
He added: "Our hope is that within the next decade, the metaverse will reach a billion people, host hundreds of billions of dollars of digital commerce, and support jobs for millions of creators and developers."
But the name change is more than just a declaration of a new focus, it serves as a company rebrand at a critical time for the business.
Over the past few weeks, a series of investigations by the Wall Street Journal based on documents from whistleblower Frances Haugen showed the company as one that puts profits first, knowingly causes harm, and showed little interest in moderating users in developing nations. It also revealed that the company was struggling to attract or retain younger users.
This Monday, multiple news outlets published even more reports on the company's actions, further deepening its public relations crisis. Haugen spoke in front of the US Senate and UK parliament.
The coverage painted a picture of a company prioritizing advertising revenue and unsustainable growth over user happiness and the fabric of society itself.
"We are fully committed to this, it is the next chapter of our work, and - we believe - for the Internet overall," Zuckerberg said in an announcement video at Facebook Connect. "Our strategy and track record show that we will do everything we believe is sustainable to grow the community, the creator economy, and the developer ecosystem."