Facebook is once again expanding its $1.5 billion data center campus in Altoona, Iowa.
According to KCCI, the company is planning to ask the local government for approval of two additions to one of the existing facilities.
The 192-acre site currently houses four data centers, each offering between 476,000 square feet and 1,000,000 square feet of space, with another two under construction.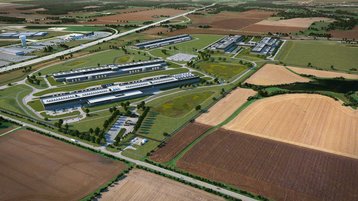 Supersize
Facebook arrived in Altoona in 2013, around the time the social media platform hit its first billion users. The campus near Interstate 80, originally known as Project Catapult, employs approximately 200 staff and has never stopped growing.
The total area of the data centers on the site will reach more than 2.5 million square feet once all the current building work is complete.
KCCI reports that, if approved, construction on the next phase of the development could start in Fall 2018.
Iowa is a leader in the production of wind energy – in 2017, wind turbines were responsible for almost 37 percent of the state's generated electricity, with 7,312MW of installed capacity, and another 732MW under construction. All Facebook data centers in Iowa are powered by 100 percent renewable energy and are being promoted as carbon-neutral.
Earlier this month, the company published a study on the economic impact of its data centers in the US, estimating that four infrastructure sites – including the one in Altoona - added $5.8 billion to the country's GDP since 2010.
The study suggested that for every data center job, there were five jobs supported elsewhere in the economy.