Construction companies in New Mexico have complained that they may be excluded from working on the new Facebook data center in Los Lunas, which received hefty tax breaks to promote local industry.
In a state with the second highest levels of unemployment in the construction industry, the data center, whose first phase will cost $250 million, was given generous tax incentives. Now, Fortis Construction, the general contractor building the facility, has set out requirements on subcontractors which are likely to rule out local small or medium sized companies.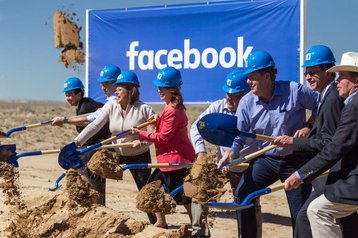 The social not-work?
According to Oregon-based Fortis' guidelines, primary subcontractors must rely on the Los Lunas project for no more than 20 percent of their annual revenue.
Many businesses in New Mexico are small, or struggling to find major contracts, and will therefore find this 20 percent cap presents a problem. Roxanne Rivera-Wiest, president of the industry group Associated Builders and Contractors of New Mexico, told the Albuquerque  Journal that that probably only 10 to 15 percent of New Mexico contractors would be eligible to bid on primary subcontractor packages and that she was "shocked and dismayed" by the decision.
"New Mexico contractors, quite frankly, have been struggling," Rivera-Wiest told the publication. "To me, it seems unfair that their ability to work on the project would be compromised because they don't have enough of a backlog (to allow them to meet the 20 percent revenue requirement)."
Chris Downey of Downey & Co., which specializes in contract bonds and insurance for commercial contractors, added: "Surety bonds are a complicated process, but we only talk about (annual revenue) when a project would comprise 100 percent or more, because then the question is, can the contractor really handle this?
"We have so many bondable, qualified, and highly technical contractors here. Imposing a 20 percent requirement is simply elitist."
Fortis has clarified that it may be willing to be flexible, with EVP David Aaroe telling the publication: "It's very important to us and to Facebook that we hire local contractors. As part of our vetting process, we require primary subcontractors to have a plan in place to hire locally. The 20 percent target is flexible and we take into account multiple factors to gauge a subcontractor's financial stability, safety records, and past performance on similar projects."
While New Mexico gave Facebook a tax break of $10 million in Local Economic Development Act funding, a gross-receipts tax reimbursement of up to $1.6 million annually, and $30 billion in industrial revenue bonds that essentially are a property tax break for the next three decades.
In giving the tax break, no legal requirement was made for Facebook or Fortis to have to use local contractors or employees.