Social media and advertising giant Facebook appears to be building its own semiconductors: the company has hired the founder of Google's hardware technology engineering team and consumer silicon team, Shahriar Rabii, and appointed him as its new Head of Silicon.
Facebook began hiring application-specific integrated circuit (ASIC) and field-programmable gate array (FPGA) developers in April, "to build custom solutions targeted at multiple verticals including AI/ML, compression, and video encoding."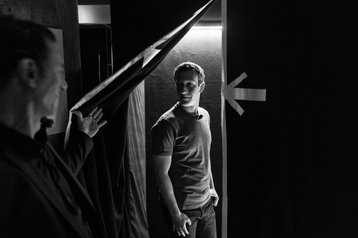 Build it yourself
Bloomberg spotted that Rabii moved to Facebook earlier this month, according to his LinkedIn profile. Previously, Rabii was senior director of engineering at Google, where he worked on products including the Pixel smartphone's custom Visual Core chip, the Titan server security chip, and VP9 and AV1 video transcoders.
Rabii's responsibilities at Facebook are not clear, with the company yet to confirm any silicon projects. The company is working on both consumer products - including Oculus virtual reality headsets and a long-rumored smart speaker - and has a large data center portfolio.
Facebook is no stranger to hardware initiatives in the data center - it previously developed its own 100Gb top-of-rack switch, packet-optical switches, a modular switch platform, and other networking equipment. The company also provided technical insights and support for Intel's Nervana Neural Network Processor.
Should it move into chip design, Facebook would join several other major tech companies that have made efforts to reduce their reliance on Intel, Qualcomm and Nvidia.
In the cloud space, Google has iterated rapidly on its tensor processing units, while in the consumer space, Apple has invested heavily in proprietary phone silicon, and plans to make its own chips for Mac computers.
In China, Alibaba is looking at the AI inferencing market with the Ali-NPU, and the low-end CPU market with its acquisition of C-Sky Microsystems. Baidu has the Kunlun AI chip, and Huawei owns the fabless semiconductor company HiSilicon.
Last week, The Information detailed Huawei's efforts to build a suite of AI products for everything from telecoms base stations and cloud data centers to smartphones and surveillance cameras. Part of the 'Project Da Vinci' aims to reduce Huawei's dependence on Nvidia and expand its portfolio of AI chips.
Nvidia's technology remains ahead, and challenging the company may prove difficult - but analysts note that Huawei was able to effectively compete with Qualcomm in the smartphone market, relying on its own silicon for its phones - and ghas gradually emerged as the world's third-largest smartphone maker.