Facebook has created its own data center fabric switch which it claims will create fitter, longer lasting and more flexible and scalable networking fabrics. Its new hot swappable modular networking switches – known as Six Packs – achieve this by allowing every node on the network to talk and share information without needing to cluster and crowd areas of a data center network.
Facebook, which designs its own hardware for its data centers, described Six Pack as a core element of the new network fabric. The design, based on Facebook's Wedge top-of-rack switch, aims to make Facebook's data centers more scalable. Like Wedge, it will be available for others to build and use through the Open Compute initiative.
Instead of building and interconnecting groups of large server clusters in a data center the new plan is to create more individualistic servers. The new Six Pack design is a bid to eliminate the traffic build up associated with clusters, by cutting the need for aggregation.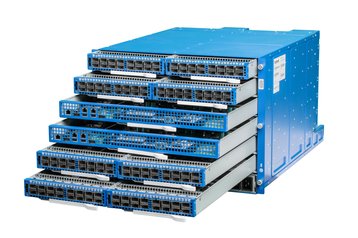 Network heart bypass
The modular Six Pack takes the fluidity of the original Wedge concept a stage further, according to Facebook hardware engineer Yuval Bachar. Clustering is not good for the circulation of information and an architecture that can be mixed, matched and manipulated can create a by-pass in the congested heart of the data center.
"We retained all the nice features - modularity of subcomponents, disaggregation of software and hardware - that we had [with Wedge]," said Bachar
The key to the modularity of Facebook's new networking fabric for data center centers is that the switch hardware is not chained to network software in the social network giant's home-grown system. It achieved this breakthrough in design by writing its own Linux-based network operating system, FBOSS.
All its server management tools for network management were also specially created by Facebook's in house developers. The key liberator for each switch is that they now have their own control plane, according to Bachar, where previous generations of networking have made them rely on a centralized control plane.
The Six Pack concept will be made open to the public through Facebook's open source hardware and data center design initiative, the Open Compute Project. Data center operators and vendors will be invited to adopt the design or create their own modifications around their own networking and switching fabrics.