Facebook has announced that its new data center in Clonee, County Meath, will be bigger than previously expected, and will have a renewable power supply agreement with Brookfield.
Work began on the site - Facebook's second European data center - back in January, with plans for a $220 million facility that would eventually fill eight halls in two buildings. This week, the company held a "sod-cutting" or ground-breaking ceremony at the site, and released images which show an expansion or acceleration of those plans, while also announcing that renewable energy for the site will come from Brookfield Renewable Energy Partners.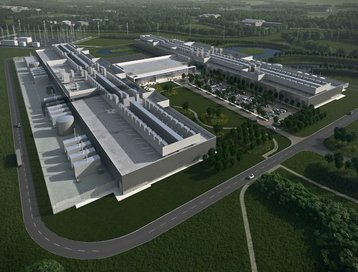 Expanding before it starts
The building project will employ around 2000 people, and the site should open for business in early 2018. Operating the data center will only take about 150 staff. The images released this week show two large building each side of a central structure.
Previous pictures showed only one large building (see below). It seems from this, that the company has brought forward plans to build the second structure. 
"It is a huge boost to our drive to attract investment to Meath," said Brian Fitzgerald, the chairperson of Meath County Council, at the event, which was also attended by the Irish Minister of State for Innovation Damien English, the Irish Development Agency (IDA) and the Council's CEO (see picture).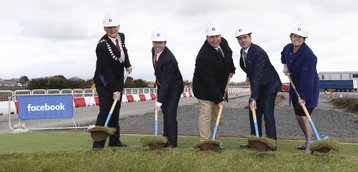 At the same time, Facebook announced a long-term deal to buy 100 percent renewable energy for the site, from Brookfield Renewable Energy Partners. Brookfield supplies renewable energy around the world, and has 465MW of wind power capacity in Ireland, and will power the Clonee site for at least ten years. Brookfield will also provide power for Facebook's international headquarters in Dublin. 
Wind power supply contracts obviously average out the production of energy and offset other sources, since the demands of data centers are continuous and the delivery of renewable power is intermittent, although suppliers usually quote the capacity as the peak output of any plant. Brookfield's release says it  will supply electricity "approximately equal to the long-term average annual generation of approximately 150 MW of wind capacity", while Facebook has said the two buildings on the site will consume up to 72MW.
To help meet expanding demand, Brookfield is building additional greenfield wind capacity of over 200 MW across Ireland.
"Facebook's new data center in Clonee will be one of the most technically advanced and environmentally-friendly in the world," said Tom Furlong, VP of infrastructure at Facebook.
The whole site is 200 acres, and the total plan could take a decade to fill up. Phase one will deliver two buildings with a gross floor area of 50,800 square meters, including eight data halls and office space. The entire campus, like Facebook's existing facility in Luleå, will be highly automated.
The Clonee Data Center, like Luleå, will use outside air for cooling, but will use an indirect air cooling process to filter the salt from the air. 
All the racks, servers, and other components will be designed and built according to the designs Facebook has shared with the Open Compute Project, a coalition of companies aiming to drive out waste from web-scale data center equipment and designs, which shares its results as open source. 
Ireland's attraction
Ireland is a popular location for data centers, with Microsoft planning its fifth data center in West Dublin, Amazon expanding its data centers in the country, and Apple planning to spend $930 million (€850m) on a massive data center in a forest in Galway.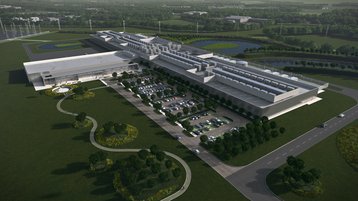 Things don't always go smoothly however. Amazon recently hit an embarassing snag,when its plan to convert the old Jacob's biscuit factory in Dublin had to be resubmitted when it turned out the company had not displayed signs to give public information about the application. And Apple is having to convince local authorities that its bid to put a data center in woodland in Galway is not a danger to the local wildlife.