A consortium including China Telecom, China Unicom, Facebook, Tata Communications and Telstra will fund a submarine telecommunications cable between Hong Kong and the US.
The 13,000 kilometer long Hong Kong-Americas (HKA) cable system will be deployed by Alcatel Submarine Networks (ASN), and is expected to offer more than 80Tbps of transmission capacity across six fiber pairs when it launches in 2020.
The more the merrier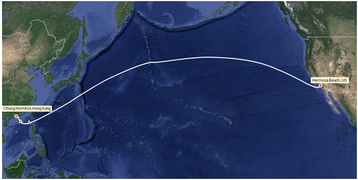 The cable will connect Chung Hom Kok in Hong Kong to Hermosa Beach in Los Angeles, California, with additional connectivity options possible in the future.
"We are proud to work with the HKA consortium on this project, which incorporates several innovations from ASN and will be based on the latest high-performance submarine line design," Philippe Piron, president of Nokia-owned Alcatel Submarine Networks, said.
"The trust placed upon us by the HKA consortium validates our position as a key player for submarine network infrastructures in the Asia-Pacific region and the reinforcement of our local presence. It also provides a strong platform to further demonstrate our commitment in project management and in the development of local relationships to support operators and content providers for their network and capacity expansion strategies."
The cable follows a similar path to the upcoming Pacific Light Cable Network (PLCN) system, which is also backed by Facebook, as well as Google. That cable, a 12,800km system between Hong Kong and Los Angeles, will have a capacity of 120Tbps when it launches this summer.
Facebook's investment in transpacific connectivity comes despite the fact that the social network is banned in mainland China. For years, the company has worked to try and enter this lucrative market, launching a charm offensive that saw CEO Mark Zuckerberg learn Mandarin, jog through polluted Tienanmen Square and meet President Xi Jinping. 
One attempt at currying favor, described in The New York Times, included Zuckerberg asking Xi to offer a Chinese name for his soon-to-be-born first child while at a White House dinner in 2015. The state leader declined.
Facebook also developed an internal tool for targeted censorship that remains unused. 
Much of the work to introduce the social network to China has, for the past three years, been headed by Wang-Li Moser. Previously at Intel, she was involved with behind-the-scenes talks with senior government officials as the company tried to negotiate access.
On Friday, however, The NYT reported that people familiar with the matter had confirmed Moser's departure. She will be replaced by William Shuai, a former government relations executive for the Chinese search engine Baidu and American social network LinkedIn. Prior to these posts, Shuai briefly worked for the Chinese government as a low-level official.