Extreme Networks has closed its $55m acquisition of Brocade's data center switching, routing and analytics business.
Announced in March, the deal was initially predicated on the closure of Broadcom's planned $5.9 billion acquisition of Brocade, but with that move repeatedly delayed over national security concerns, the terms were changed.
Extreme circumstances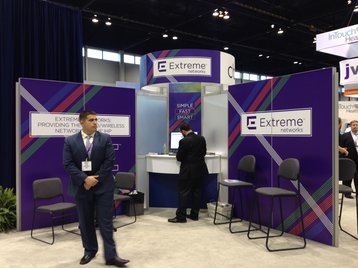 Extreme has acquired Brocade's customer relationships, personnel and technology assets related to the SLX, VDX, MLX, CES, CER, Workflow Composer, Automation Suites and certain other product lines.
"This is an exciting day for Extreme as we have now significantly strengthened our position in the expanding high-end data center market with the industry leading solution for enterprise customers," Ed Meyercord, president and CEO of Extreme Networks, said.
"Through a series of synergistic acquisitions, Extreme is now a top player in the enterprise networking industry and expects to generate over $1 billion in annual revenues."
Nabil Bukhari, Data Center VP, formerly of Brocade and now at Extreme, added: "Our strategic vision has been closely aligned with Extreme Networks' vision throughout this process… Extreme and Brocade are excited to work closely together through the integration process to ensure a smooth transition and our world-class data center team is excited to have joined the Extreme family."
The deal was originally set to close soon after Broadcom completed its acquisition of Brocade. But that transaction remains in legal limbo, something that caused Extreme to change tack and negotiate with Brocade directly.
Shareholders approved the Broadcom-Brocade acquisition way back in January, but the deal was delayed after discussions with the Committee on Foreign Investment in the United States (CFIUS).
While Broadcom Corporation was originally an American fabless semiconductor company, it was acquired by Singapore-based Avago Technologies for $37bn in 2016 - with the resulting entity operating as Broadcom Limited. Since the company is headquartered in San Jose, California, but domiciled in Singapore, the attempted acquisition drew the attention of CFIUS, which has increased its scrutiny of foreign deals as part of a clampdown on Chinese investment.
Earlier this month, Broadcom and Brocade pushed back the deadline of 1 November and filed documents with CFIUS for review. "Broadcom and Brocade have been and will continue to be actively engaged with CFIUS, remain fully committed to the merger and will continue to work diligently and cooperatively to close the merger," the companies said in a statement.
Those involved tentatively hope for the deal to be approved by November 30 - which will then also pave the way for Arris' pending $800m purchase of Brocade's Ruckus Wireless and ICX switch business.
The committee that kills deals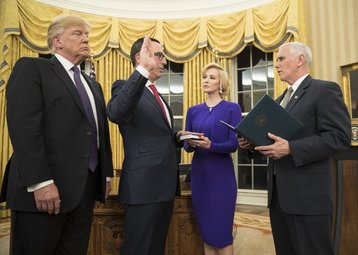 CFIUS is currently dealing with an acquisition review backlog, as it clamps down on several deals involving Chinese investors. Among them is Alibaba affiliate Ant Financial's attempted $1.2 billion acquisition of Dallas-based payments firm MoneyGram International, which in July refiled its application after the body declined to approve the deal.
HNA Group Co canceled plans to invest in American in-flight services firm Global Eagle Entertainment after a CFIUS rejection.
Meanwhile China Oceanwide Holdings Group and Canyon Bridge Capital Partners refiled twice in their attempts to acquire insurer Genworth Financial and Lattice Semiconductor Corporation, respectively.
In the case of Lattice Semiconductor, the second filing proved fruitless: in September, President Donald Trump prohibited the $1.3bn purchase after a recommendation to nix the deal by CFIUS - the fourth time a President has ever blocked such a deal.
Steven Mnuchin, Secretary of the Treasury and CFIUS chair, said in a statement: "Section 721 [of the Defense Production Act of 1950] authorizes the President to suspend or prohibit certain acquisitions of US businesses by foreign persons where he finds that there is credible evidence that the foreign interest exercising control might take action that threatens to impair national security, and where provisions of law other than Section 721 and the International Emergency Economic Powers Act do not provide adequate and appropriate authority to protect national security in the matter under review.
"The national security risk posed by the transaction relates to, among other things, the potential transfer of intellectual property to the foreign acquirer, the Chinese government's role in supporting this transaction, the importance of semiconductor supply chain integrity to the US government, and the use of Lattice products by the US government."
CFIUS, a little-known inter-agency committee, has grown in importance under the Trump administration, with the President promising to change Sino-US trade relations in the coming years. At the same time, the Chinese government has sought to cut down on the amount of foreign investment its domestic corporations are engaged in, amid growing concerns that businesses built on loans from state-controlled banks pose a threat to China's financial system.