Extreme Networks will buy Brocade's data center networking business for $55 million in cash from its soon-to-be new owner Broadcom. The deal gives Extreme the products descended from its original Ethernet rival Foundry. 
Communications chip maker Broadcom picked up Brocade in November for about $5.5 billion plus $400m of debt, but last month sold off its Wi-Fi division Ruckus Wireless for $800m to Arris International. With Broadcom's acquisition technically still to close, Extreme's purchase requires that to happen without any issues arising.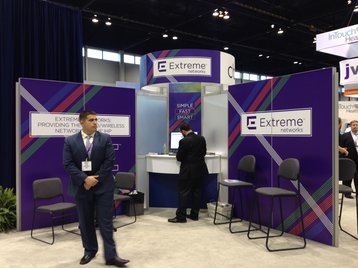 Extreme bros
"The addition of Brocade's data center networking business significantly strengthens our position in the expanding high-end data center market and reinforces our strategy of delivering software-driven networking solutions focused on enterprise customers," Ed Meyercord, president and CEO of Extreme Networks, said.
Extreme will get Brocade's VDX, MLX and SLX switches and software including as its Virtual Application Delivery Controller, Virtual Router and SDN Controller packages.
The VDX, MLX and SLX products are descendants of products from Foundry, the specialist Ethernet switch maker that was a rival to Extreme in the early years of the century, which was bought by Brocade for $3 billion in 2008. 
Meyercord continued: "As Extreme is the only pure-play end-to-end, wired and wireless enterprise IP networking company in the world, we believe Brocade's data center customers will benefit from our dedication to delivering high-quality, software-driven, secure networking solutions and the industry's highest rated customer support."
The $55m purchase will consist of $35m at closing and $20m in deferred payments, as well as potential performance based payments to Broadcom over five years. "Given the strong profitability of Brocade's data center business, this transaction will accelerate Extreme's objective to achieve gross margins in excess of 60 percent," Meyercord said.
Lloyd Carney, CEO of Brocade, added: "Our two companies have similar strategic visions and believe that innovation will increasingly be driven through software capabilities that allow customers to successfully transform their networks for digital business. Both companies are pure-play networking providers, serving the enterprise edge to the data center core."
The acquisition marks just the latest move by Extreme to expand in the networking space. In September 2016, the company acquired Zebra Technologies' wireless LAN business, also for $55m. 
In addition, Extreme is the stalking-horse bidder on Avaya's networking business, which means that the company will be entitled to a break-up fee and expense reimbursement if it does not succeed in its $100m acquisition attempt of the Chapter 11 business.
For more on software-defined networking, be sure to subscribe to the next issue of DCD Magazine, out soon.