Protesters gathered outside Amazon's European headquarters in Ireland on Black Friday to highlight its treatment of workers and "unsustainable" environmental policies.
The Extinction Rebellion and Progressive International protesters held a black banner with the message "data centers equals blackouts."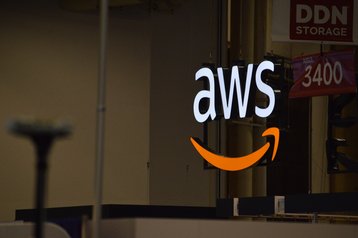 In a campaign called 'Make Amazon Pay,' the group called for Amazon to pay its workers, pay taxes, and pay for its damage to the climate.
On the same day, thousands of workers at Amazon warehouses around the world went on strike over well-documented poor working conditions and pay that does not reflect the cost-of-living crisis. Amazon warehouse worker deaths and injuries are higher than the national average in the US.
Another protest was held near Amazon's new offices in Cape Town, which is being developed on land that indigenous people see as sacred.
In Ireland, the protest focused on the workers, Amazon's tax practices (in 2020, the company had sales in Europe of €44bn but paid no corporation tax, and yet received subsidies for its operations), and its data centers.
The Irish grid has struggled to keep pace with a surge in data center builds in the country, putting strain on resources.
Grid operator EirGrid claims that data centers use around 17 percent of the nation's energy as of 2021. That is expected to increase to 28 percent by 2030. They have also taken up a large proportion of renewable energy (via PPAs).
The data center industry disputes some of EirGrid's figures, saying it only uses a quarter of the energy the sector was allotted, and that EirGrid failed to invest in the grid.
The grid has enforced a de facto moratorium on new data center grid connections in the Dublin area, saying the grid is unable to accommodate facilities and risking blackouts. Digital Realty's Interxion has told the local press it has paused plans for a $300 million expansion in the area as a result of the restrictions put in place; at least 30 other projects have reportedly also been halted as a result.
But despite the slowdown of data center approvals in the country, Amazon managed to gain permission for two more huge facilities. With those new builds, the company's total footprint in the country could use 4.4 percent of Ireland's overall electricity supply by 2026. Amazon uses renewable power for its facilities - via power purchase agreements - and is targeting 100 percent renewables by 2025.
The company was slower than other hyperscalers in turning to renewable power, but is now the largest corporate user of renewables. It is also the largest in Ireland, funding wind farms in Cork, Donegal, and Galway.
While a step in the right direction, criticism remains as to its use of such deals, because Amazon does not use 24-hour PPAs. With renewable power being intermittent, and Amazon's use constant, it will use fossil fuel-based grid energy when the wind does not blow. Rival Microsoft is exploring turning to battery storage during such times.
Amazon's retail operations have a much larger footprint than its cloud division, especially in Scope 2 and 3 - but it does not count 99 percent of its Scope 3 emissions.
Following the protests, the company said in a statement: "While we are not perfect in any area, if you objectively look at what Amazon is doing on these important matters you'll see that we do take our role and our impact very seriously.
"We are inventing and investing significantly in all these areas, playing a significant role in addressing climate change with the Climate Pledge commitment to be net zero carbon by 2040, continuing to offer competitive wages and great benefits, and inventing new ways to keep our employees safe and healthy in our operations network, to name just a few."