Meta is reviewing a number of under-construction data center projects around the world as part of a drastic design change for AI workloads.
The company formerly known as Facebook this week laid off its primary contractor on two data center projects in Denmark, ending development on the Odense expansion.
Now, DCD understands, it is reworking some of its 11 under-development projects for new designs, which themselves are still under development.
This may include the cancelation of contracts with contractors for existing designs, but our sources note that Odense is the only one where a new development is currently not planned. The others are being "rescoped," which will likely impact their construction timelines, and require new contracts (and potentially approval by local authorities), but are still expected to ultimately end in new data centers.
Update: The next data center to be paused is in Temple, Texas, which the company only started work on this Spring. More details here.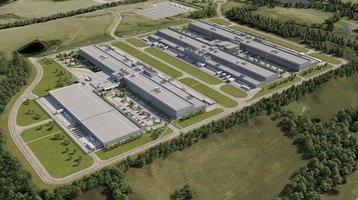 "Supporting AI workloads at scale requires a different type of data center than those built to support our regular online services," Meta's Nordics comms manager Peter Münster told DCD when the Odense expansion was canceled.
"This is why we are focusing our efforts on building a new generation of data centers."
When asked why the Odense site couldn't be retooled for the new designs, Münster said: "We are focused on building AI capacity and as of now, this site does not fit our current needs."
Those facilities will be liquid cooled, the company said at the Open Compute Summit in October.
At the time, it appeared like the shift would be gradual, but the company now seems to be making a drastic switch. The Denmark decision, at least, appears to have been on quite short notice - for example, the contractor for the Odense data center was only brought in this August.
DCD also understands that the new designs are still being finalized.
Odense will still see the completion of a smaller expansion that was well underway. It is believed that data centers that are near completion on the older design will still be finished as is.
Meta last month announced it would lay off 11,000 employees, some 13 percent of its entire workforce, amid worsening economic conditions, impacts to its business model from Apple, and an as-yet-unsuccessful pivot to the metaverse.
However, the company, whose share price has plummeted, claimed that data center spend would be unaffected by the cutbacks.
It is not clear how its most recent change will impact its spending plans, with Meta chief strategy officer Dave Wehner in October noting that "we are building new data centers specifically equipped to support next-generation AI hardware... There is some increased capital intensity that comes with moving more of our infrastructure to AI."
Have more to share? Get in touch with our confidential tips line