European satellite firm Eutelsat has signed a new connectivity agreement with Intelsat alongside OneWeb to "enhance connectivity solutions" over Europe, the Middle East, and the Pacific.
Under the 'seven-year multi-million-euro capacity agreement' Eutelsat will add OneWeb's LEO (low-Earth orbit) solution to its existing and planned High-throughput satellites (HTS) in the Ku-band, including the recently launched EUTELSAT 10B satellite, EUTELSAT 172B, and the future software-defined Flexsat coming in 2026.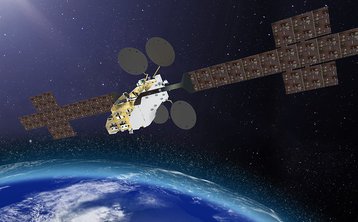 The company said customers will benefit from a 'seamless ubiquitous connectivity service' enabled by the combination of the GEO and LEO assets of Eutelsat's and Intelsat's GEO fleets coupled with OneWeb's LEO network.
Eutelsat said this week's agreement cements a proposed deal previously announced on the Eutelsat 10B satellite in October 2019 between Eutelsat and Gogo Commercial Aviation, acquired by Intelsat in 2020.
Eutelsat and OneWeb are currently undergoing a merger, with the GEO satellite firm already a significant investor in the LEO network provider. Eutelsat will combine its 36-strong fleet of GEO satellites with OneWeb's constellation of 648 low Earth orbit satellites, of which 582 are in orbit.
Inmarsat owns and operates 14 satellites in geostationary orbit.
Cyril Dujardin, general manager of Eutelsat's connectivity business unit, and Ben Griffin, vice president of mobility at OneWeb, said: "Eutelsat and OneWeb are proud to collaborate to provide Intelsat with the best connectivity solutions. This truly hybrid approach paves the way for thorough connectivity solutions for all stakeholders, be it in the air, at sea, or on the ground. In all, it will deliver customers the best of both worlds in an integrated seamless approach."
In other space news:
- Starfish Space has raised $14 million to fund the development of its in-orbit satellite servicing vehicles.
The Series A funding round was led by Munich Re Ventures, with additional participation from Toyota Ventures and previous investors including PSL Ventures, NFX, and MaC VC. The company has raised more than $21 million to date to create Otter Pup, a small prototype satellite servicing, as well as the full-size Otter spacecraft to boost satellite orbits or help dispose of them.
- Ground station-as-a-Service provider Atlas Space Operations has announced a new partnership with Viasat Real-Time Earth (RTE). The deal adds 10 new antennas within the Viasat network to Atlas, with two additional antennas available by the end of the year. The deal follows a recent agreement with AWS, which added a further 11 ground station sites to Atlas' network.
Last month Atlas signed a deal with the Rwanda Space Agency (RSA). The RSA is building a teleport capable of hosting multiple ground stations to service satellites in different orbits – including a 9.3-meter antenna in different frequency bands – that Atlas will be able to offer to its clients. The RSA will use Atlas' Freedom Ground software to manage operations.
- European satellite technology company Satcube is building a new factory in Karlstad in Sweden to make satellite terminals.
- Mexican telco Stargroup has chosen Hughes' Jupiter satellite to help it extend LTE services to customers in rural communities. The satellite is being used as a backhaul for a number of remote cell towers.