The European Processor Initiative has completed its first three-year phase on time.
The European Union project includes 28 partners from 10 European countries and aims to build a family of low-power processors for everything from high-performance computing data centers, to Edge facilities, to vehicle chips.
Within the EPI is SiPearl, the EU-funded company designing the HPC microprocessors.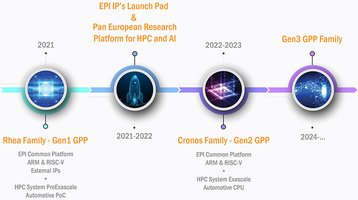 SiPearl has partnered with French company Atos to develop a 'General-Purpose Processor' (GPP), the first generation of which is known as Rhea.
Based on the Arm Neoverse V1 architecture, the chip has 29 RISC-V cores. As part of the first phase, a GPP virtual prototype has been designed and used.
"We are proud of our success in designing a powerful GPP leveraging cutting edge technologies and IPs built and deployed exclusively by European universities and industrial leaders," Stream Leader Emmanuel Ego (Atos) said.
"We are confident that we will soon demonstrate the instrumental role of this GPP in enabling a European exascale computing machine, the next breakthrough in the HPC domain the world is expecting."
Philippe Notton, founder and CEO of SiPearl, added: "At SiPearl, we are very proud to bring to life the joint project of the European Processor Initiative. We worked hard through close collaboration with the initiative's 28 partners – the scientific community, supercomputing centers, leading names from industry and innovative start-ups – who are our stakeholders, future users, and clients.
"With the release of the Rhea processor, we will all contribute to ensure European sovereignty in HPC applications such as personalized medicine, climate modelling, and energy management."
Other developments in phase one include an open-source, RISC-V based power controller was designed by University of Bologna and ETH Zurich.
In October, SiPearl partnered with Intel to combine Rhea with Intel's Ponte Vecchio GPU accelerator, potentially to include in European exascale supercomputers.