The final version of RenewIT, a free software tool that aims to help with the design and placement of energy-efficient and renewable-powered data centers, has been made live.
In the works since October 2013, the project is co-funded by the European Union and led by not-for-profit energy research centre Catalonia Institute for Energy Research (IREC), with other members including 451 Research, Barcelona Supercomputing Center (BSC), Loccioni Group of Italy, Aiguasol, Deerns, and Technische Universität Chemnitz (TUC).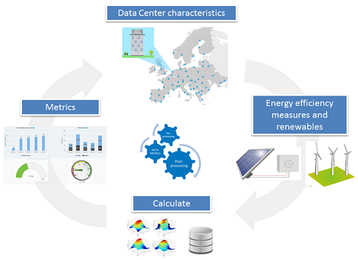 EU goes green
The tool, available here, allows data center professionals to find the optimum combination of efficiency measures and renewable energy supply in order to build sustainainable facilities, the European Commission says.
It also enables users to compare electricity costs, access to renewables and similar decision factors across more than 60 sites around Europe.
Using models developed by the project, Netherlands-based financial services company ING was able to work out it could improve the efficiency of one of its carbon-neutral facilities with a biogas fuel cell, as well as by raising the operating temperature in its data center.
"After three years of research and development, it's great to be able to launch the finalized RenewIT Tool and more importantly that we can make it available for free," said Andrew Donoghue, 451 Research analyst and RenewIT project spokesperson.
"The tool is truly unique. It not only allows data centre operators to model the benefits and costs of on-site and grid renewables but also the efficiency gains from technologies such as free cooling, and even workload management, can also be assessed in detail."
RenewIT was designed over 3 years with a budget of €3.6m ($4m), with future development of the tool possibly extending to North America and Asia.