Luxembourg-based data center operator Etix Everywhere is collaborating with Eura DC on the construction of a carrier-neutral data center in the Hauts-de-France regional capital, Lille.
Eura DC is a joint venture between French companies ARD-COM and ATE. The three partners will each get to run their own share of the upcoming facility.
Etix in Lille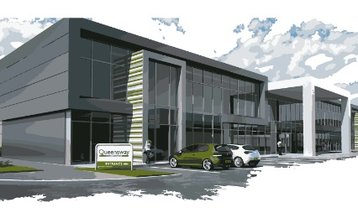 Founded in 2012, Etix Everywhere currently operates two standardized data centers in France, as well as one in Morocco.  The company has data centers under construction in Senegal and Scotland, where it is the technical partner of the Queensway Park data center in Fife, which is slated to become Scotland's largest facility, and will run entirely on power from biomass created at a nearby wood pulp plant. 
The company is reportedly "developing new data center projects" in five additional countries on the African continent, seven in the EU, and has "identified several opportunities" to build colocation data centers in the US and Canada. Etix opened two offices in America last year.
Co-founders Charles-Antoine Beyney and Antoine Boniface claim their approach to "middle ground" data centers, neither shipping container modular types nor multiple megawatt facilities, gives them a differentiating edge, allowing them to compete with larger companies such as Equinix and TeleCityGroup.
Designed "to meet Tier 3 standards", the upcoming brick-and-mortar facility, which Etix claims will take no more than 16 weeks to build, will initially house 100 racks. Lille#1 will have total power capacity of 1,200kVA, and will eventually allow for approximately 2,500 sq ft of technical space. The site will also offer a 2,200 sq ft area for offices. 
France's fourth largest city is located less than 15 miles (23km) from the Belgian border, and has long served as a crossroads between France, the UK and Belgium. This makes the site a "solid alternative choice to the Paris area," according to Maxence Rousseau, CEO of ATE. Further, the region's climate could result in savings on cooling costs.
Once Lille#1 is operational, ARD-COM, ATE and Etix everywhere will run their share of the facility individually, says Louis Blanchot, Etix Everywhere's sales manager for France: "each partner is in charge of commercialising the infrastructure and developing their own colocation offers."
Plaine Images
The data center is to be built at the heart of Plaine Images, an industrial site spanning five acres and dedicated to professionals from the creative industry, working in the fields like digital marketing, graphic design, web development and VR. 
Laurent Tricart, Plaine Images event and strategy coordinator, expressed his enthusiasm at Etix' choice of location, stating that this would create a "fantastic opportunity" for businesses on the site.
Construction is expected to complete in May, and the data center will be up and running by September.