As temperatures in Texas plummet, the grid has managed to stay up - despite the fact that the grid operator significantly underestimated demand for electricity.
Concerns about the state's grid have continued since its dramatic collapse last year during freezing temperatures.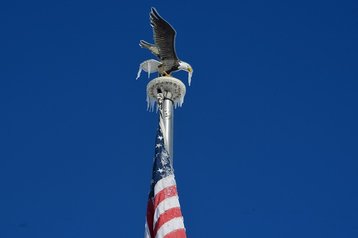 More than 200 died during the February outages, as homes were left without heating. Others saw their homes destroyed as water pipes burst, and businesses were forced to close.
The Storm Uri outages brought down Austin's city data center, and disrupted semiconductor manufacturing in the state.
But the wider data center industry was able to keep online, thanks to diesel generators and strong fuel supply contracts - with fuel having to be shipped in from out of state as local suppliers could not pump fuel. Dallas-Fort Worth is home to one of the world's largest conglomerations of data centers.
Since the devastating storm, there have been calls to reform the mostly unregulated grid, but this month a bipartisan group of state senators said that a proposed redesign was unworkable.
The grid has not been substantially overhauled since Uri, but ERCOT and the Public Utility Council claim to have made some changes - including more fuel on site for natural gas-fired plants, and better communication between regulators and emergency planners.
These improvements will be put to the test as the state heads into another brutal storm, with minus-10-degree wind chills in the Dallas-Fort Worth area and wind chills as low as minus 30 degrees in the Panhandle.
ERCOT and Governor Greg Abbott said that they had enough capacity to handle the increased demand, and did not expect rolling outages - however local outages are already occurring due to downed power lines or other infrastructure damage.
As temperatures dropped below freezing on Thursday, demand has already passed ERCOT expectations by around 10,000MW. This Friday, demand is now expected to peak at 76,355MW, within ERCOT's capacity of 85,000MW.