Equinix has signed a 15 year Power Purchase Agreement (PPA) with a subsidiary of Southern Company that will see Bloom Energy fuel cells installed at 12 of its US data centers.
The phased installation will begin in late 2017 and should finish by 2019, providing a total capacity of more than 37MW of power.
Good for the climate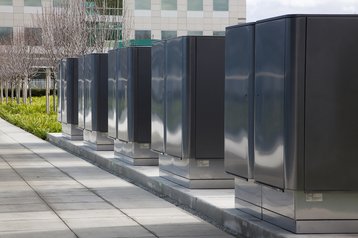 Coming after a previous trial at Equinix's Silicon Valley SV5 IBX data center that began two years ago, the project will install fuel cells at seven Equinix IBX data centers in Silicon Valley (SV1, SV2, SV3, SV4, SV5, SV6, SV10), three in the New York area (NY2, NY4, NY5) and two in the Los Angeles area (LA3, LA4).
"As Equinix data centers, and the interconnection they facilitate, become increasingly critical to the infrastructure of our digital world, this fuel cell expansion is one step in lessening the overall impact of the digital economy on the planet," Karl Strohmeyer, president of Equinix Americas, said.
"It enables us to serve our customers with the highest levels of performance while assisting their efforts to make their supply chain clean and efficient."
When including the existing SV5 IBX fuel cell, and fuel cell installations at two data centers it acquired from Verizon (LA7 and NY13), Equinix will have a total of more than 40MW of fuel cell provisioned power at 15 locations.
Once fully online, fuel cells will provide power that Equinix says is 20-45 percent cleaner than the equivalent utility provided natural gas powered generation. Over its lifetime, the project should avoid 660,000 tons of carbon emissions and save 87 billion gallons of water, when compared to what would have been used by natural gas or coal-fired utility generation.
KR Sridhar, founder, chairman and CEO of Bloom Energy, said: "There is no greater compliment and validation of our energy platform than to have our existing customers continue to expand their deployments of Bloom Energy Servers, and today, Equinix is doing that in a big way."
Bloom Energy fuel cells use a solid oxide technology to generate electricity through an electrochemical process that uses air and fuel, releasing water and a small amount of carbon dioxide as by-products.
The Californian company has proved the most successful at bringing SOFC tech to the data center, signing up Google, Apple, eBay, NTT, CenturyLink, Verizon and more as customers. It has, however, seen its fair share of ups and downs - last year, private equity firm GSV Capital Corp sold its stake in the company at a loss, calling it "dead money."
In October, Bloom partnered with PowerSecure, the microgrid and backup-power provider acquired by utility Southern Company. PowerSecure said that it would acquire 50MW of Bloom SOFCs and offer them to its customers through no-money-down installations, and sell the power they generate under long-term power-purchase agreements.
The 37MW deal with Equinix is the first large publicly announced result of this partnership.