Equinix is expanding its LD6 data center which was opened just over six months ago in Slough near London. It has also announced a hook up to the Hibernia Express transatlantic cable, which gives a very fast link between London and New York. 
The expansion of Equinix's sixth London data center comes very soon after it opened, but is necessary because it is filling up. Phase two will double the size of the data center, adding 6MW of power, 1385 cabinets and 4000 sq m (43,000 sq ft) of space, and should be complete by the third quarter of 2016, Equinix told DatacenterDynamics.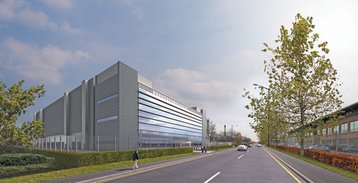 Double up
 "Equinix can confirm that plans have been put in place to expand the data centre capacity at LD6 in Slough," said Ross Henderson, Equinix's technical facilities director UK, "Currently Equinix's LD6 data centre is at 50 percent capacity, which only represents the completion of phase one. Work has now started on phase two, which is expected to be complete by Q3 2016, brings the available space in the Slough campus to over 32,600 sq m."
While this planned expansion is going on, Equinix is awaiting approval on a $3.5 billion deal to acquire data center operator Telecity, which was announced in June. 
Telecity itself also announced a new data center this week, but it is expected that the combined comnpany will have to sell off some of its capacity when the merger is finalized, to ensure financial and regulatory approval. Final approval of that deal is expected next week. 
Meanwhile Equinix has connected to the Hibernia Express sub-sea cable which it says will reduce the round trip latency between its NY4 and LD4 data centers to less than 58.95ms. Equinix locations in New York and London will serve as carrier-neutral landing locations for Hibernia Networks.
Hibernia Express uses Corning EX2000 pure silica core fiber, with dense wave-division multiplexing (DWDM) to provide multiple channels on different frequencies. It currently offers 100Gbps service with 200Gbps service available on the Dublin to London route, and can potentially be upgraded to 400Gbps and beyond. 
Hibernia Express is the first new-generation transatlantic cable to be deployed in 12 years, and claims to be future proofed, but it won't be the last fibrer. Equinix has also signed to be the carrier-neutral landing station for the rival AquaComms cable, which is also being laid between New York and Ireland.