Equinix, the world's largest colocation provider, has reported its second-quarter results, beating expectations and raising its full-year outlook.
Its 54th consecutive quarter of growth, Q2 saw revenues rise seven percent over the last quarter and a 35 percent rise year-on-year to $900.5 million. This was in part due to the acquisition of Bit-isle and Telecity, which brought in $37.3m and $107.2m respectively.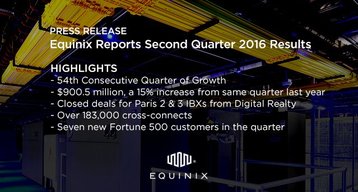 A closer look
Operating income rose 35 percent over the last quarter, to $151.7 million. Adjusted funds from operations rose 31 percent year-on-year to $290.5m, and capital expenditures increased to $249.9m from $221.3m for the same time last year.
Looking to the third quarter, Equinix forecast revenues of $915-921m, an adjusted EBITDA of $419-425m and capex of $230-250m.
Speaking in an earnings call, CFO Keith Taylor spoke of the troubles withbuying Japan's Bit-isle and Europe's Telecity, particularly considering the European Commission's ruling that it had to sell some of Telecity's sites.
He said: "As we look at the acquisitions, so both Bit-isle and Telecity, they're performing against our expectations. As you've heard us say before, there's a lot of friction as we closed out the Telecity transaction and then sold off a number of the assets. We're now looking forward to seeing the focus on that business, and I would expect that at some point, you'll see the momentum pick up in Telecity.
"As it relates to Bit-isle, as you've heard us refer to, there was a lot of churn that was embedded in the business. And yes, we're experiencing the churn, but the team is continuing to perform well."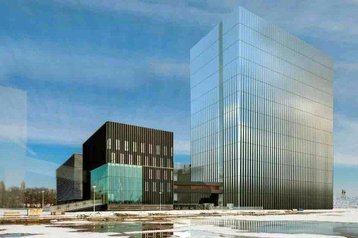 He continued later in the call: "We're very much trying to look at it holistically. But it's clear that, from our perspective, we've taken away substantial distraction from the business now that we've not only closed the acquisition of our Paris 2, Paris 3 acquisition, but the divestiture of the eight assets to Digital Realty.
"And so now we can really focus on scaling the business and taking away a lot of the noise in the system."
CEO Stephen Smith was upbeat on the impact of Britain's vote to leave the EU: "The Brexit impact is, at this point, very early. I think everybody's waiting the regulatory changes. And as you guys know, typically in the past, any regulatory changes have benefited Equinix.
"So, it's too early for us to determine. And we certainly haven't seen it in our bookings or our pipeline yet."