Equinix has reported revenue gains for the 59th quarter running, reaching a high point of $1.15bn. The company's quarterly revenue rose by 25 percent year-on-year - ten if currency adjustments are made - though this includes $137m as a direct result of its acquisition of 29 Verizon data centers.
The company owns more than 180 data centers in 44 regions, more than 230,000 cross-connects, and promises 99.99999 percent availability to its customers. And true to form, it has been busy in 2017.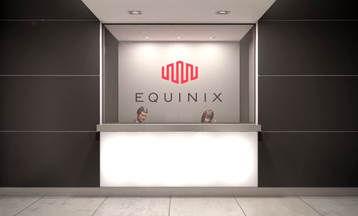 Make way for the beast
Equinix launched a $190m data center in Amsterdam, opened its fifth data center in Hong Kong for $32m, and its 14th facility in the Washington D.C. area (deceptively named DC12). It also bought IO UK's data center business, entered the Spanish and Portuguese markets when it acquired Itconic and its five data centers, and bought Zenium's Istanbul data center for $92m.
In March, the company launched its own data center monitoring software platform, IBX SmartView, across a limited number of facilities.
And its revenue grew throughout the year despite a $6.8m loss when LinkedIn was acquired by Microsoft and relocated infrastructure to its own data centers. In Q2, the company's revenue passed the $1bn mark for the first time, reaching $1.06bn. 
In this quarter alone, the company struck new deals and extended existing partnerships with customers including Alibaba, Baidu, Netflix, Oracle, Salesforce, SAP, Tencent and Walmart, adding ten Fortune 500 companies to its customer base.
With 13 expansion projects at various stages of completion across three regions – EMEA, APAC and NAM - worth $615m, the company is planning to grow its footprint in Denver, Miami, São Paulo, Amsterdam, London, Stockholm, Frankfurt Hong Kong, Melbourne, Shanghai and Singapore. 
Gains from the network interconnection business outmatched those from colocation in Q2, growing 31 percent year-on-year.
The company expects the winning streak to continue, and predicts that its total revenues for the year will range between $4.35bn and $4.36bn, a 21 percent increase year-on-year.
And though it may all seem like smooth sailing, there is always a bigger chunk of the market to swallow. Charles Meyer, president of strategy at Equinix, told Data Center Frontier that in the future the company will be breaking from tradition, planning to pursue hyperscale, multi-megawatt deals, shifting from its traditional retail approach to a model resembling that of wholesale providers.