Colocation giant Equinix has appointed industry veteran Charles Meyers as its president and CEO. He will also join the Board of Directors.
Meyers spent eight years at the company, with his most recent position being the president for Strategy, Services and Innovation. Before Equinix, he spent another eight years in executive positions at Level 3 and VeriSign.
Meyer replaces Peter Van Camp, who served as interim CEO since January, following the resignation of Steve Smith over "exercising poor judgment with respect to an employee matter." The company never revealed the exact reason for his departure.
"Like any company, and particularly one that is operating in a rapidly changing market, we are going to continue to evolve and adapt and augment our strategy over time," Meyers told DCD.
"But in terms of giving people some comfort, we have been a very well-performing business for quite a long time, growing significantly, continuing to have great results in terms of giving value to our customers. We are going to build on our strategy, it is going to continue to focus on those core elements of interconnection, global reach and digital ecosystems."
Like a boss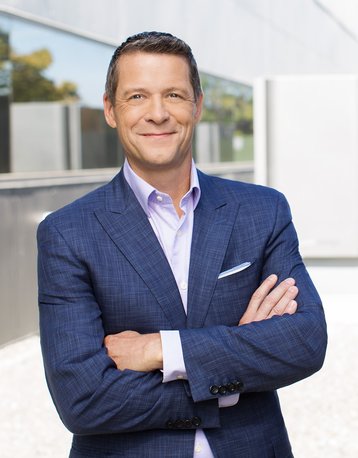 Equinix is one of the world's largest and fastest-growing data center operators, with more than 180 facilities and 17 million square meters of data center space under management.
The company was on a recruitment drive following the sudden resignation of Smith, who led Equinix for a decade. During his tenure, annual sales at Equinix grew from $400 million in 2007 to a projected $4.35 billion in 2017.
The board decided to appoint Meyers after evaluating a range of candidates, both internal and external. He joined Equinix in 2010 as president for the Americas – one of the company's three regional divisions. In 2013, Meyers was appointed as COO, leading the Global Sales, Marketing, Operations and Customer Success teams.
Last year, he became the president of Strategy, Services and Innovation, helping refocus the company around interconnection, rather than colocation – at a time when public cloud providers are seen to be eroding colocation revenues.
"During the period of time that I've been there, we definitely have focused on interconnection as a primary differentiator, and also a primary enabler for helping our customers drive digital transformation," Meyers said.
"It will continue to be central to our strategy going forward. Lately, we have been talking a lot about positioning Equinix as the trusted center of a cloud-first world – and that's how this interconnection value proposition is showing up.
"People look to us and they say 'hey, we want to get to a hybrid cloud, multi-cloud end state for our digital infrastructure.' And because of our global reach, because of our connections to the clouds, and our experience, they are really looking to us as an enabler for that digital transformation."
Meyers said that Equinix is currently considering expansion into new geographies "through a combination of organic and inorganic means" – which could spell more acquisitions in the near future. "India is a market that we've talked a good deal about, South Korea is a market we have talked significantly about," he added.