Equinix has acquired IO UK's data center operating business in Slough, and will rename the facility LD10.
We toured the facility when it opened in 2015, which is designed to Tier III standards and makes use of BaseLayer's Modular Data Center units.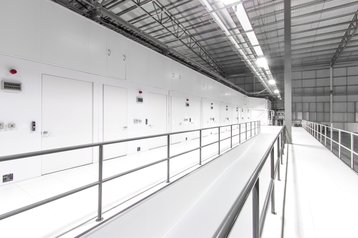 Slough, Europe's data center capital
"London remains a global economic engine, with leading enterprises and cloud service providers making it a primary hub for IT infrastructure," Eric Schwartz, EMEA president of Equinix, said.
"Adding additional interconnection and capacity in this market enables local and international customers to leverage Platform Equinix to meet their changing business needs – whether that is to connect to networks, clouds, or financial markets – Equinix is the place to be."
The LD10 International Business Exchange data center will be tethered to the other data centers on the Equinix Slough campus - LD4, LD5 and LD6.
It will add approximately 350 cabinets of sold capacity and a total colocation space of approximately 3,340 cabinets once it is completely built out.
IO, which operates data centers in the US and Singapore, built its own "data center in a box" modules before spinning that division off as BaseLayer in early 2015.
The company continued to make use of the BaseLayer Modular Data Center units since becoming two businesses, and Equinix says that it will maintain and expand the BaseLayer units in LD10 as needed.
Terms of the deal were not discussed, but in the last fully reported financial period, from launch to December 31, 2015, IO UK generated revenues of approximately $1.4 million.