Global colocation and interconnection provider Equinix is expanding its European footprint with a second data center in the Bulgarian capital, Sofia.
In its first phase, the $19m project will add 1,103 square meters (11,872 sq ft) of colocation space for 350 IT cabinets, with the possibility of installing another 1,100 cabinets in the future. The facility will run using only renewable energy.
The city of Wisdom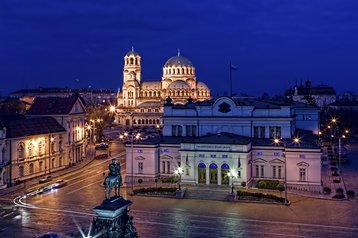 Equinix customers in the new data center will be able to connect to each other directly, as well as to the Bulgarian Internet Exchange (BIX) and to the company's 200+ facilities around the world, via its cloud connect service.
Equinix customer VMware praised the company's decision to build another data center in Sofia, where the virtualization giant's European R&D headquarters are located.
The research facility's managing director, Diana Stefanova, said: "The VMWare office in Sofia is the main R&D and innovation hub of the company in the EMEA region and is among the top three key strategic development centers for VMware worldwide. Therefore, the reliability of services in Sofia is critical for the VMWare Bulgaria R&D business operations.
"At the same time the VMWare Bulgaria R&D business operations needed to scale the business and find a prominent partner in Eastern Europe that could meet these needs. By leveraging Equinix's global interconnection platform with 99.9999% uptime, we've been able to not only reach new markets, but also accelerate our business performance."
Eric Schwartz, EMEA president at Equinix, spoke of the company's plans to expand the site in an interview with DCD earlier this year, stressing the importance of ramping up its capacity outside of the traditional Frankfurt, London, Amsterdam and Paris (FLAP) markets.
Schwartz also named Madrid, Barcelona, Stockholm, Helsinki, Dublin, Milan and Zurich as targets for potential expansion.
Sofia has made a name for itself as something of a startup hub in the region, and local companies have increasingly attracted venture capital in recent years.
According to the Bulgarian News Agency, a proportion of the city's SMEs covered by the JEREMIE equity fund, 191 of them startups, received €75 million in venture capital between 2013 and 2017. Meanwhile, the European Investment Fund reported that in 2017, it awarded 116 million in funding to Bulgarian SMEs.
While a far cry from the sums invested in Silicon Valley startups, this represents a massive increase over a short period of time, meaning the market is the one to watch.